Licensees :
JOHN DRAKE
to c1620
THOMAS FELTWELL
1670 - 1671
.
JOHN KING
1776
ELIZABETH KING
1789
JOHN KING
1797
WILLIAM SIMMS
1803 - 1804
JAMES BAKER
by Oct 1813
Mr. STIBBARD
here 10.1827
WILLIAM PALMER GREAVE
Notification of death published 22nd November 1833
to November 1833
Mrs. ANN GREAVE.
from November 1833
THOMAS PORTER
Horse & Gig hire
1836
JOHN BUNTON
by 11.1836
SAMUEL BIRLEY
Age 35
(1841)
JOHN BUNTON
to 10.1845
JAMES CARTER mrcvs
(Wife Mary died Monday 20th June 1853, age 31)
10.1845 - 1869
JAMES CHATTEN
Age 28 in 1871
04.05.1870 - 1883
JOHN RINGWOOD
1883 - 1891
CHARLES JAMES HOLDUP
1892
EDWARD JAMES ATKINS
by 1901
WILLIAM MELONIE
06.01.1905
HERBERT GOODINGS
Age 48 in 1911
12.07.1907
EMILY CLAXTON GOODINGS
13.10.1926
EUSTACE GOODINGS
12.10.1928
GORDON SKIPPER
22.05.1959
WILLIAM SIDNEY WILLIAMS
05.07.1963
MICHAEL CHARLES RIX
10.01.1965
HERBERT GEORGE ATKINS
12.02.1965
DOUGLAS WILLIAM BOYCE
11.04.1969
STEPHEN BACON
21.11.1969
ANN & KEN RIDLEY
here 12.1975 - 06.1977+
STEVE FELTON
1999
PAUL MADDEN
by Oct 2008
Mrs. Ann Greave advised her Friends and the Public that she intended to carry on the business of her late husband - 22nd November 1833.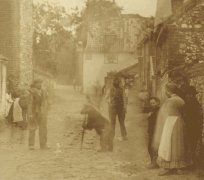 A `dancing bear'
With the Bull in the background.
c1890


Innkeeper John Drake was buried 25th January 1620

Thomas Feltwell was landlord of the house and also Church Warden.
His initials are said to be on the Church tenor bell, cast 1670.
(They also appear on a farthing token)
In 1671 he was fined for `not scouring his ditch '.
The Norfolk Chronicle of 6th July 1776 advertised
`The annual Bean Feast will be held at John Kings at the Bull Inn, Litcham on Wednesday 10th July'

The annual Venison Feast was held here on Wednesday 7th August 1782, Wednesday 6th August 1783, Monday 31st July 1786 and Wednesday 2nd August 1797

For Sale by Private Contract as advertised 11th March 1797, with two Pightles adjoining, containing about about five acres, late in occupation of John King.

Offered for sale April 1803, then in occupation of William Simms. Further particulars being available from the Reverend John Raven at Cley next the Sea.

For Sale by Auction Monday, 20th August 1804, then in occupation of William Simms.

John Bunton, late of the GEORGE INN, Swaffham, advised 12th November 1836 that he had taken the Inn. The Dinner for the Members of the Launditch Association would be held Two o'clock on Thursday, 17th November. Tickets 7s 6d each.

John Bunton advised 22nd October 1845 that James Carter had taken the Inn.
Mr. Carter confirmed that he had been in the business for five years and assured that the combined exertions of Mrs. Carter and himself, would provide his Friends and Employers with unremitting attention............

Lot No. 51 in the 2nd day of sale by order of the Trustees of the late John Morse Esq., 8th & 9th September 1847.
The property included :-
A well frequented Hotel, containing besides the requisite number of Sitting & Bed rooms, a Large Room used for Magistrates meetings and a Spacious Ballroom; a yard & reservoir with 2 Pumps, 3 Stables, Coach & Gig House & Other convenient outbuildings; A Garden, & Bowling Green attached - Freehold.
Advertised for sale again in 1858 - Purchased by Mr James Carter for the sum of £800.

Jane Fanny Carter, wife of James Carter, died on Sunday 7th August 1859, age 32.
Closure proposed by Bullards at the First Joint Committee Meeting of Bullards and Steward & Patteson 29th May 1962.
Sales reported as 89 barrels.
Closure NOT agreed.