Licensees :
-
JOHN PAGGETT
1795
-
Mr. VIOLET SIZELAND
Died December 1812
by 1804 to 1812
ROBERT VIOLET SIZELAND
victualler, plumber & painter
b.1804 d. December 1860
1836 - 1860
JACOB BIRD
1861 - 1868
JOHN BETTS
Age 49 in 1871
28.10.1868 - 1872
JOSEPH RATTENBURY
28.08.1872
ABEL BURTON
(also given as Barton and Benton)
& threshing machine owner
See opposite.
1874 - 1890
DAVID BURTON
Age 26 in 1891
06.06.1890 - 1896
MARTIN PATTERSON
by 1900
ROBERT HAMMOND
16.10.1903
ELIJAH HOWE
Age 47 in 1911
26.11.1909
ANNIE HOWE
04.01.1935
WILLIAM JAMES SUMMERFIELD
20.11.1936
THOMAS GEORGE FAIRWEATHER
10.10.1947
WALTER ALFRED BEALES
17.08.1951
DEREK JAMES PATRICK
Licence confirmed 01.01.1954
28.11.1953
REGINALD NORMAN FEEK
Brewery representative
09.10.1959
REGINALD CHARLES SILBY
20.11.1959
HAROLD WILLIAM HENRY COLEMAN
11.10.1963
DAVID HORSEBURGH ?
27.08.1965
DUDLEY ALBERT GRIMBLE
Brewery representative
09.02.1968
JAMES EDWARD MANNING
05.04.1969
-
MELVYN GOFF
c1995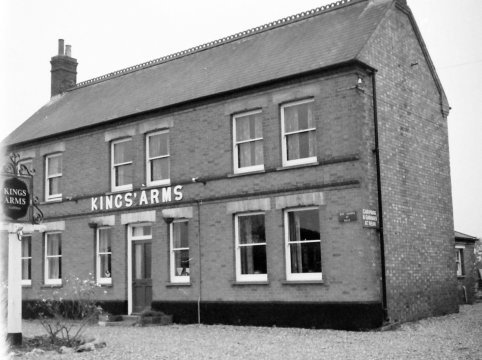 October 1987.

For Sale by Private Contract as advertised 11th March 1797, with Cottages and Pightles adjoining, containing about about five acres.
At the Dereham Petty Sessions of Friday 3rd July 1903
it was reported that the recently rebuilt house had been occupied before a water-supply certificate had been obtained.
The company surveyor for Hogge & Seppings, of Setch said that the omission was an oversight. The Inspector of Nuisances stated that the defendants had always hitherto willingly complied with his requirements. The Bench dismissed the summons on payment of costs.

For Sale by Auction Monday, 20th August 1804, then in occupation of Violet Sizeland. Mr. Parker Frankling is given as undertenant to Mr. Sizeland, but that may be for the 5 Acres of Land adjoining.

In November 1953, a temporary licence was granted to Derek Patrick, who for seven years previously had been butler to Major R. Hoare, of Little Dunham Lodge.
Advertised for sale 22.03.1996
£95,000 - to be converted into 2 private dwellings.