Licensees :
-
WILLIAM BATCHELOR
1789 - 1794
-
Mr. PARKER
Died 14th March 1820
to 03.1820
JAMES PARKER
age 44 in 1851
& barge owner & brewer
1829 - 1856
HAM FLOOD
& brewer
10.1856 - 1863
GEORGE DEWING
& horsebreaker
1864
WILLIAM DEWING
1865 - 1879
WILLIAM SAUNDERS MITCHELL
& posting house
1881 - 1891
ROBERT CLAYDON
1892 - 1896
THOMAS FROST
1900
GEORGE EVERETT GARNHAM
(as George E. Graham in 1916 Kelly)
1904 - 1916
ROBERT CRISP
04.07.1919
ALICE MARY CRISP
13.02.1956
PHILIP TRAVIS WILKES
27.08.1956
.
-
-
-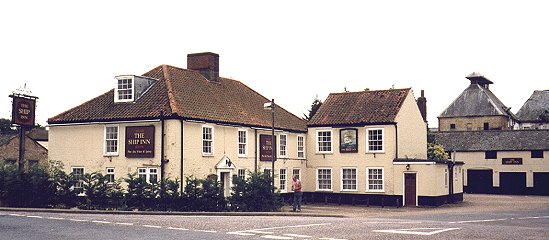 05.10.1997


Bargees were paying river tolls here in the 17th century.


Susan Parker, daughter of the late Mr. Parker, died Monday 16th October 1820, aged 20.

It was published October 1856 that Mr. Ham Flood, from Gaywood RAMPANT HORSE, had taken the Inn.

The household Furniture, Effects and Out-door Effects of Mr. Ham Flood were to be Sold by Auction Thursday, 8th October 1863 since he was changing his residence.

The Lynn Advertiser of 23rd March 1927 carried an apology, dated 19th March 1927, from Mr Robert Crisp to Messer's. Bullard & Sons Limited.
Mr Crisp had breached his tenancy agreement by purchasing certain quantities of Whisky, Gin, Brandy, Port Wine and bottled beers from Messer's. Nicholls & Campbell Limited of Kings Lynn. Mr Crisp publicly acknowledged the breach of contract and expressed his regret. He gave consent for Bullards to use the apology in any way they may seem fit. Furthermore he undertook to pay for all publications of the apology in Public Newspapers and to pay Bullards the sum of £100 as liquidated damages in accordance with his agreement.
Advertised as a Canton Chinese Restaurant by 2009