Licensees :
-
........ THIRTLE
1832
-
WILLIAM BRETT
1831
WILLIAM PRATT
& farrier
1836
JAMES ROWLAND
& farmer
1845 - 1860
JOHN LOCKETT
1861 - 1874
Charged Monday 31st May 1869 by Inspector Mobbs, of Holt, with having four quart and three pint measures unjust. Claiming he was unaware he had short measures in his house, Mr. Lockett was ordered to pay costs of 4s 6d.
ROBERT H JEFFRIES
12.10.1874
STEPHEN EVERETT
& farmer
1875
to 1922
HENRY EDWARD GAY
27.10.1922
FRANK WILTSHIRE
24.10.1924
JAMES COOPER
11.02.1927
GEORGE ALFRED GEE
16.06.1933
MABEL GEE
26.06.1942
WALTER FIELDS
02.05.1958
ALFRED JAMES FAULKES
01.04.1960
to closure
DUDLEY GRIMBLE
23.07.1971
James Rowland married Jane Lawrence, late housekeeper to the Earl of Orford, on 13th January 1858.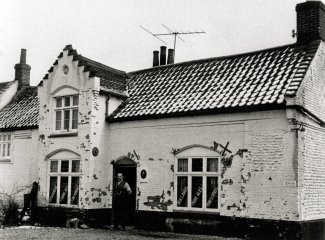 c1960

Lot 11 in the sale of property, late of Mr. Thomas Colk, of North Walsham. Sale held Friday 8th June 1832.
Described as a Substantial Double Cottage, used as a Beer-house, together with a Yard and Garden in the occupation of ....Thirtle. The lot being Leasehold for the residue of 1000 years, commencing 12th January 1765.

For Sale by Auction Wednesday, 28th September 1842, the occupier being about to retire from public-house keeping.
Property comprising a capital Kitchen,, large Back Kitchen, used as a Bake-office, two Parlours, five Sleeping-rooms, Dairy and an excellent Cellar for keeping beer. Also Barn, Stables, Cow-houses, Piggeries, Cart Lodges, &c...

The Household Furniture and other Effects of Mr. Lockett were For Sale by Auction, Friday, 2nd October 1874. (Sale postponed until Friday, 9th October)

First appears in Holt Register 6th February 1920.
Bullards when in Holt licence register.
Mentioned in Bullards delivery list c1962.

S&P business report, prepared for Watney Mann, June 1969 stated - `No counter service and extremely poor toilet facilities'.
Immediate closure was recommended.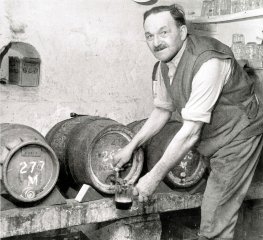 This is believed to be Alfred Faulkes
He is about to serve beer the way it should be done -
straight from the wood.
Note the aluminium barrel to the left