Licensees :
PHILIP HOLMES / HOLMAN
Holmes according to Pigot, Holman according to Norfolk Chronicle.
1839
WILLIAM ALLEN
(John Allen 1846)
1841 - *1856
Saturday 24th July 1841 - Fine of 10s and costs for harbouring notorious bad characters.
Mrs Allen?
1858
CHARLES BACON
1862 - 1869
Fine of 18s, including costs, 19.12.1863 for selling out of hours. See opposite.
JOHN ARMS
here May 1871
GEORGE WRENCH
by 1872
GEORGE SAMUEL CLAMP
29.07.1876
ALFRED LAKE
19.05.1877
MATTHEW HENRY NEWMAN
13.10.1877
ROBERT JOHN WOODS
14.10.1882
JAMES MASON
09.12.1882
W. BURROWS junior
09.10.1883
A.RTHUR SANDELL
17.06.1899
WILLIAM WOODS
22.09.1906
THOMAS LOCKWOOD
20.10.1906
ALFRED BARNES
19.10.1907
Convicted 28.08.1909 of permitting drunkenness - Fine 10/- plus 8/- costs or 14 days detention.
HENRY G. GOLDSMITH
20.11.1917
CHARLOTTE ELLEN GOLDSMITH
14.02.1939
WALTER ARTHUR POINTER
12.03.1940
EDWARD NUNN
30.12.1952
VICTOR GEORGE HILL
20.11.1956
PETER FREDERICK CROTCH
18.11.1958
LLOYD GEORGE VOUT
30.08.1960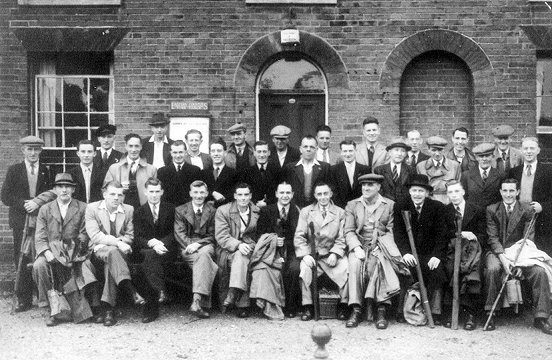 The 1947 fishing team.
Image thanks to John Baker

Advertised Saturday 15th June 1839 as for sale by Auction, then in the occupation of Mr. P. Holman. Adjoining cottage in occupation of the Widow Wilson also included. The whole site being 36.5 Perches. Freehold.

At the Annual Licensing Day, Saturday 4th September 1858 an application was made for a spirit licence. The applicant requested that since the Catton ROYAL OAK had been demolished, the licence from there should be transferred to her house. The application was opposed since the BLACK HORSE had been badly conducted when it only held a beer licence and there was no reason to expect an improvement in its management under a spirit licence.

William Sexton pleaded guilty on Saturday 19th April 1862 to stealing some old sacks from a shed belonging to Mr. C. Bacon, beerhouse keeper. Sexton had disposed of them on 11th April at a marine-store-dealer in St. Paul's, Norwich. He was sentenced to one month's imprisonment with hard labour.


Application by Charles Bacon for a spirit licence, refused at the licensing sessions 5th September 1863.

Charles Bacon was charged Saturday 19th December 1863 of having sold beer to persons who were not bona fide travellers, during prohibited hours, on the previous Sunday. The Deputy Chief Constable had called at the house between four and five o'clock on Sunday afternoon and found the front door locked and blinds of the tap-room down. He went to the back door and upon entering found some thirteen individuals. Most were smoking and several mugs were on the table, but only one contained beer. One of the assembly was George Taylor, who appeared to be quite drunk.
Bacon was fined 5s and 13s costs.

Application by Charles Bacon for a spirit licence, refused at the licensing sessions 2nd September 1865.

Steward & Patteson records state that Mrs Goldsmith (widow), took over the house in December 1938, although the licensing registers records her as licensee from February 1939.