Licensees :
SCOTT & JANET .......
1987
JAN & JOHN PARDON
to 1990's
JOHN & MAVIS BERESFORD
managers
07.1998 to 11.2010
BEN & TRISH COOKE
11.2010 - 2019+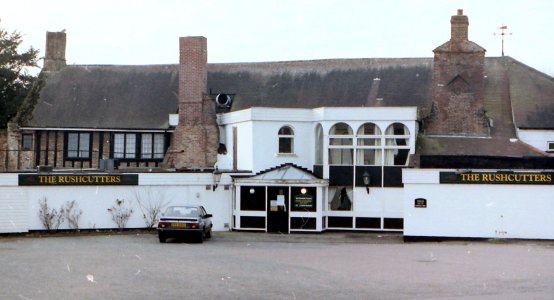 February 1998

Originally the

THREE TUNS.

Became

THORPE GARDENS

01.09.1879.

The

BOAT & BOTTLE

from 1969.

Following conversion from a multi-roomed building into an open plan, multi-level restaurant/bar.

RUSHCUTTERS

from 16th September 1985.

A reported £720,000 refurbishment during 1998.
`History and character have been thoughtfully preserved, yet much has changed' - October 1998.

Plans by Scottish & Newcastle Retail, August 2003, to build an adjoining 36 bed hotel approved by Broads Authority planning committee. Hotel to be built on land, described as a derelict site, although only parking for 32 cars to be provided.

£140,000 refurbishment carried out by Punch Taverns Monday 6th September to Thursday 16th September 2010.

Refurbished early during May 2019 to reopen 29th May
"The Chef & Brewer Experience.....
...A six figure sum being invested to give...
an open fireplace,
timber and stone flooring
and new furnishings........ a cosy country pub"