Licensees :
-
JOHN FRANKLIN
Died 27th November 1848 - age 73
1794 - 1848
JOHN J. FRANKLIN
age 25 in 1851
& farming 85 acres
1851
-
WILLIAM BROOKES MANN
Age 39 in 1861
*1859 - 1861
JAMES ELLENDER
died on premises 8th December 1862 - age 47
1862
Mrs SARAH ELLENDER
(blacksmith & victualler 1864)
Given at the Griffin in 1863 by Harrod
1864 - 1871
JOHN HOOKS
(Estate carpenter in 1872)
1875 - 1883
CHARLES ROBERSON / ROBINSON
Age 32 in 1891
1888 - 1891
WILLIAM CHARLES ROBERSON
by 1892
HERBERT VICTOR ROBERSON
25.11.1910
EDMUND BROOKS
07.01.1938
Fine 07.02.1941 of £4 for selling on a Sunday without a licence.
CHRISTOPHER EDGAR WILLIAM BENOR TAWSE
04.11.1961
WILLIAM JOHN FROST
20.11.1970
LESLIE ROY WOODRUFF
31.01.1975
Elizabeth, the second daughter of Mr. John Franklin, died of typhus fever Saturday 31st August 1833, aged 18.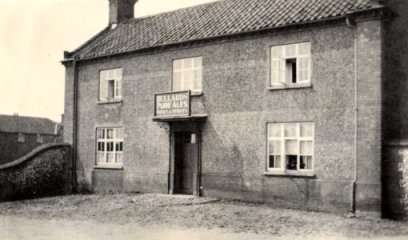 c1935
John Franklin was a member of the Jury, at the Inquest, held at the Griffin Inn, Titteshall, Monday 21st November 1853, into the murder of Mr. Beha a German born watchmaker and silversmith, from Norwich, who had been discovered dead on Tivetshall Common Friday, 18th November.
8th March 1854 - Farmer, John Thomas Franklin assigned all his personal estate and effects to Trustees for the benefit of his creditors.

The Live and Dead Farming Stock, Dairy and Brewing utensils, and part of the Household Furniture of Mr. John Thomas Franklin was to be Sold By Auction Monday 2nd October 1854, since he was quitting his occupation. ( Being a Publican not mentioned. )
Mr. William Brookes Mann is named as licensee here, April 1859.
All the Household Furniture, six excellent Feather Beds, and part of the Blacksmith's Stock-in-trade, and other effects were to be sold Wednesday, 9th October 1861, since Mr. Mann was leaving the Inn.

Recorded in 1864 as the OSTRICH & HORSE SHOE

Full 6 day licence upgraded to 7 day licence 11.02.1949
No change recommended at the First Joint Committee Meeting of Bullards and Steward & Patteson 29th May 1962.
Sales then reported as
86 barrels.

Became a Social Club c1982
(Owned by Watney Mann = Chef & Brewer)
Sold to Brent Walker 03.1988.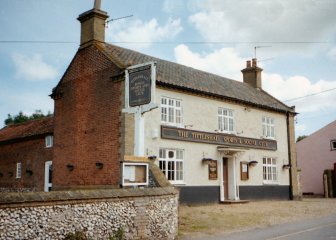 Sports & Social Club 1988

Closed 1995 after being used for 13 years as Titteshall Sports & Social Club.
Application made July 1996 to convert to domestic dwelling.

A private house by 1998