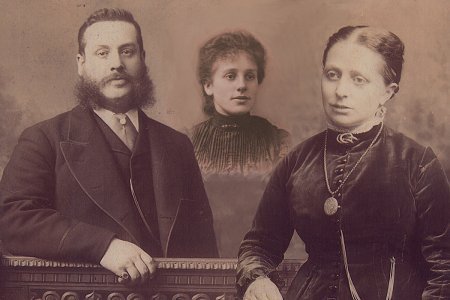 Jonas and Isabella Mary A. Lake. (married 1867)
Blanche Lake, shown in the centre, was the 6th of 10 children.
In 1901, at the age of 21, she was a barmaid at the Branford.
Thanks to Mrs. Winnie Neal for the images.
New licence granted to Jonas Lake 21.08.1895 in exchange for the licence of the
FARRIERS ARMS.
The licenses of the
VICTORIA
and the
VILLA GARDENS
were also given up for this new licence.
The premises were known at the time of licence being issued as the Branford Bakery, Pockthorpe. A condition of the licence was that there be no access from the bakery to the public-house.
At the Licensing Sessions Tuesday 22nd August 1899 it was said that the lack of internal communication caused inconvenience in running the bakery and it was asked if access could be made between the two, with the bakery not being used for carrying out the licensed victuallers business. The Chief Constable strongly objected and the application was refused.
Jonas Lake applied for an opening to be made between the Bakery and the Beerhouse as reported in the Norfolk Chronicle of 26.08.1899.
The opening was for ease of access by the applicant.
The Chief Constable objected on the grounds that each business should remain on separate premises.
The Bench refused the application.
Punch Taverns advised December 2009 that a temporary licensee had been recruited and that the house had re-opened........ However the house remained closed.