Licensees :
PHILIP SERGEANT
1760 (?) - 1764
ROBERT MAYHEW
1783
THOMAS BOOTH
1791 - 1798
Mrs. BOOTH
1802
THOMAS RISING
1805 - 1811
WILLIAM EKE
Previously at RAMPANT HORSE
1811
WILLIAM HENRY REDHEAD BLACKLEY
1823 - 1833
Mrs. BLACKLEY
to September 1833
CHARLES GIBBS
11.1833 - 1834
JOHN SHINGLES
1834 - 1839
CHARLES TAYLOR
age 45 in 1841
Died 27th June 1848 - age 57
1841 - 1848
MARY TAYLOR
age 40 in 1851
from 1848
RICHARD SMITH
08.09.1876
RICHARD HAMMOND
05.12.1876
JEFFERSON HOLT
01.01.1880
HENRY BENNETT
24.02.1883
HORACE LYNN BLAKE
29.08.1887
MAUD BLAKE
14.08.1894
GEORGE THOMAS BECK
26.03.1895
MARY ELIZA BECK
15.06.1909
MARY ELIZA STEWARD
21.07.1910
WILLIAM CUBITT TREEN
05.04.1916
WILLIAM LIONEL GRIX
07.05.1918
ALICE SUSANNAH GRIX
11.06.1918
Convicted 22.10.1918 of selling out of hours.
Fine £1 or 13 days detention.
HARRY HORACE EMMS
05.04.1933
HARRY POINTER
25.07.1933
CECIL HARRY SUTTON
02.01.1945
WILLIAM DERBYSHIRE
09.02.1954
DENIS FRANK GREENWOOD
28.12.1954
ALFRED ERNEST COLLINS
12.06.1956
STEWARD JACKSON HICKS
05.04.1960
ERIC GORDON BISHOP
20.11.1962
HENRY MALCOLM SMITH &
REGINALD CYRUS CONSTABLE
23.07.1963
JAMES ALLEN BROWN &
REGINALD CYRUS CONSTABLE
09.02.1965
MICHAEL A CAIRNS
1967 - 1969
GEORGE DUBOIS
manager
by 1969 to closure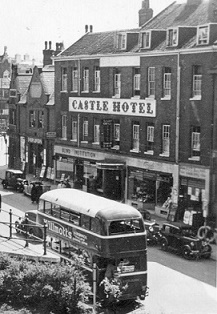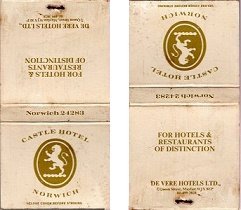 Mentioned in the trial of `Royalist rioters' 1648, following the blowing up of the Committee House.
As the
CASTLE INN
on a trade token dated 1664.
Apparently officially named the
CASTLE HOTEL
from 1685.
Address as 14 White Lion Street 1783.
As 13 White Lion Street to 1802
CASTLE & LION
, Castle Ditches in 1810
CASTLE INN
White Lion Street 1811.
Philip Sergeant is given at the CASTLE & LION in 1760,
but at the CASTLE in 1763.

The house was engaged for Freeholders, the Friends of Sir Edward Astley, Bart. and Thomas William Coke, Esq. on Wednesday 14th April 1784, being the Day of Election. (One of 53 such houses in Norwich)

Although named at the house in 1791 and 1792, Thomas Booth informed his Friends and the Public in general, September 1793, that he had taken the Inn and fitted up the whole with new furniture; he had also laid in a large stock of genuine Old Wines and Liquors. He had for many years been Waiter at the White Swan Inn.

Thomas Booth, printer, confirmed to be the owner of the CASTLE & LION in his will dated 11th January 1805. (proved 15th June 1805)
The house was then said to be in the occupation of his
father in law - Thomas Rising.
Frances, mother of Thomas Booth, had (re) married in 1802.
The will left the property jointly to his mother and Thomas Rising for a period of 21 years, or life, and was then to be sold.

Not mentioned 1822.

Mr. Blackley advised 26th July 1823, that he had taken the Inn, where he had made Alterations and Improvements. Good and well-aired Beds would have the utmost care and attention.

~

To Let with Immediate Possession March 1833 following the death of the late Tenant, Mr. Blackley.
Still available To Let July 1833.
Advertised September 1833 - To Be Let at a Reduced Rent with Possession from Michaelmas.
Over four days, from Monday 23rd to Thursday 26th September 1833, All the valuable Furniture, Plate, Wine Glass, Linen, China and other Effects were to be sold By Auction.
Mrs. Blackley was in occupation, but about to leave the house.
On Saturday 28th September 1833 it was advertised that the Inn was to be Sold by Auction during the ensuing month.
Containing 16 sleeping-rooms, spacious commercial, market and porter-rooms, three private sitting-rooms, large kitchen and all other offices.....
An opportunity to maintain the position amongst the most respectable and first Public Inns in the City of Norwich.

The Sale by Auction was eventually advertised to be on Wednesday 16th October 1833.

~

Charles Gibbs announced 7th December 1833 that he had taken the Old-established House. A good Ordinary to be provided every Saturday, at a convenient hour. He offered Well-aired Beds and Good Stabling.

~

25th January 1834 - Charles Gibbs, of the Commercial and Family Hotel, the CASTLE INN, Castle Ditches thanked the public for the liberal patronage he had already received in the short period that he had already conducted the establishment. He promoted a Good Ordinary every Saturday, at a convenient hour, for Gentlemen engaged during the day in the Cattle Market and Corn Exchange.

~
John Shingles took possession of the Castle Inn at Michaelmas 1834 and in September 1834 he had informed his Friends and the Public that he was arranging for painting and re-furnishing in the neatest and most modern style. Mr. Shingles confirmed that he had hired as Head Waiter, George Gooch, well known for the past six years of holding that position at the ANGEL, Market Place.

Bankrupt John Shingles, Innkeeper, Dealer and Chapman was required to attend Court on Monday 11th November 1839 in order to declare his Estate and Effects to the benefit of his Creditors. All Debtors to settle their accounts by that date.
~

Mrs Mary Taylor thanked the Friends of her late husband, July 1848, for their kind patronage and support during a period of twenty years and informed that she would carry on the business on her own account.
~
Mrs Taylor provided an excellent dinner for about fifty Gentlemen on the evening of Tuesday 25th January 1853 to celebrate the completion of the extensive new buildings and additions to the establishment. The house was one of the most complete hotels in the city.
New Kitchens and up-to-date Hygienic Principles installed 1935.

Accidentally damaged by fire 1940, rebuilt in 1950.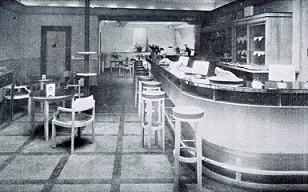 The Bar - Run by Maisie Setchfield from 1967 to her retirement January 1987, aged 80.
Known during her time as "Maisies Bar", the entrance being either through from the front of the hotel or from an entrance on White Lion Street.
During her time working at the hotel she was estimated to have consumed some 29,000 bottles of Irish Stout (Guinness), the value of which in 1987 would be £17,520.

Closed October 1989.
Demolished 1990 to make way for the Castle Mall development.