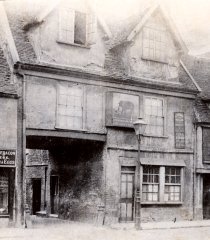 c1900
Mr. Sadler offered a reward, 15th August 1708 for information on a black mare, missing from his Stalham grounds. Contact to be made of Mr. Sadler, or to Mr. J. Jary at the Elephant, Magdalen Street.

< Mrs. Sadler, mentioned below, would have been about 17 years old at that time>
Offered To Let 15th July 1710 with possession at Michaelmas.
Address as 101 Magdalen Street in 1783
102 Magdalen Street in 1802.
26th November 1710 - Mr. T. Taylor of Westwick lost 1 Sow and 7 Shoats, 2 black spotted. A reward would be given, to whoever gave notice of them, to Mr. Taylor or to Mr. Jary at the Elephant.
The house was engaged for Freeholders, the Friends of Sir Edward Astley, Bart. and Thomas William Coke, Esq. on Wednesday 14th April 1784, being the Day of Election. (One of 53 such houses in Norwich)
Mrs. Sadler, who for many years kept the Elephant, died on Thursday 24th February 1791. She was nearly 100 years old.
Robert Brown announced 30th March 1791 that he had removed from the
WHITE LION
to the Elephant.
The creditors of Robert Browne, late of the Elephant, were asked to call into the offices of Messrs. Suffield's Counting Room to register for any benefit, in a notice dated 3rd April 1792.
Provisional order for removal of licence to the LARKMAN
(Also with the licence of the KINGS HEAD) issued 11.03.1930.
Removal declared final 05.01.1932.

Property sold by Steward & Patteson in 1932.

Premises used as a tobacconists by 1937.

Demolished c1970 in the name of progress.
Site of the inner ring road `flyover'.



House no. 429 on 1845 Magistrates list


See page 51 of `Norwich in Old Postcards - Vol 3'
first published 1990.