Licensees :
-
JOHN STARR
1760 - 1762
ROBERT WITHERALL
labourer
1763 - 1764
WILLIAM MARLEY
09.1784
ROBERT BROWN
Went to the ELEPHANT
to 1791
SAMUEL WOOD
1791 - 1798
MATTHEW CREED
1801 - 1802
JAMES HUNT
1810
RICHARD SIMPSON
1822
RICHARD PETERS
1830 - 1833
WILLIAM BRITTAIN
1836
WILLIAM BARBER
& bricklayer
by 08.1837 - 1855
WILLIAM HALL
by 1856
JAMES GOODRUM
29.06.1875
SARAH GOODRUM
10.10.1891
ISAAC HENRY HOUSEGO
24.11.1891
SARAH HOUSEGO
05.04.1906
ANTHONY BURROWS
24.07.1906
THOMAS HARRY HAWES
06.04.1955
LOUIS REGINALD CANHAM
06.04.1956
JOHN FREDERICK MILEHAM
17.07.1956
DEREK JOHN DANIELS
03.01.1961
WILLIAM PAGE
01.01.1963
STANLEY KIOLIK
08.02.1966
BASIL BAILEY
07.06.1966
PATRICK JAMES HALL
11.10.1966
DENNIS ILLINGWORTH
02.09.1969
ARTHUR RONALD TUNBRIDGE
06.01.1970
DAVID WILLIAM BARBER
25.11.1975
DAVID JAMES RAYMOND BARTTELOT
08.06.1976
D D HARKNESS
07.09.1976
RALPH SAUNDERS
10.01.1976
WILLIAM MARRIS
08.09.1981
ALAN & SANDRA COCKERILL
23.07.1985
Note :-
Melville gives William Barber here in 1856, but Craven gives William Hall in that year.
The 1858 Post office Directory has separate entries for William Barber and William Hall, both at this house.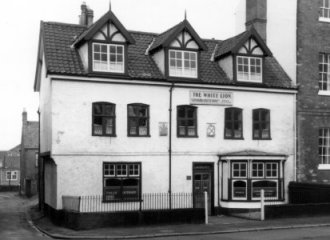 c1950

House dates from the 16thC.

Offered to let March 1783 - `Enquire of Old Cat & Fiddle Brewing office, St Saviour's.'

Offered to let January 1784 with large Stables and great Conveniences for the Market Business - `Enquire of Old Cat & Fiddle Brewing office, St Saviour's.'

24th September 1784 - William Marley of the BLACK PRINCE informed his Friends and the Public that he had taken the White Lion, St. Martin's Plain.


Offered to let from Christmas 1788 - Enquire of Mrs. Dye in the same Parish.

One of 36 Norwich houses opened for the reception of Voters in the interest of Mr. Windham and Mr. Coke on election day Thursday 13th November 1806.
The name of the Hundred for which the house was appropriated was to be displayed at each house.

On Tuesday 7th May 1833, Mrs. Elizabeth Peters died suddenly, aged 50. On the following Saturday, 11th May, the only child of Mr. and Mrs. Peters, Harriet, died aged 19.

On Tuesday 19th June 1855, Mr. William Barber held a sale of part of the Useful Household Furniture, two capital, strong Cob Ponies, (13 and 14 hands high, warranted sound), three neat Pony Gigs, excellent Phaeton, two strong Luggage Carts, three sets of good Pony Harness, young Grey Parrot and Brass Cage, and other miscellaneous effects.


Renamed the WIG & PEN 1985.