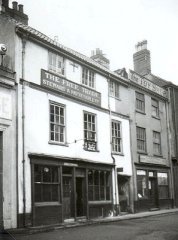 20.08.1936
Image by George Plunkett - shown by permission - Copyright © G.A.F.Plunkett 2002
Also found as the
FREE TRADE INN

.
Full licence granted Tuesday 25th August 1868 to George Jay.
intention was to close for the duration of the war.
Damaged by enemy action 27/29.04.1942
House reopened 26.05.1942
It seems that in the 1940's the house was known as the
CROOKED BILLET
.
Pat Pass remembers that when her grandfather Bertie Ellis ran the place.....
` It was known as the Crooked Billet, partly due to the building itself but more likely to the dubious backroom activities involving clothing coupons, the dilution of gin with distilled water from the garage next door and cakes. Still have no idea about the origin of the cakes but perhaps Bertie had contacts with someone from Ashworth & Pikes! '
Licence transferred to the
MARLPIT
06.07.1948