Licensees :
BERTIE SAMUEL ELLIS
(ex Free Trade Tavern)
10.02.1948
STANLEY JOHN JEFFRIES
05.04.1960
NOVA JEFFRIES
04.09.1979
ALAN JOHN ALLDAY
27.07.1982
ROY ALAN MORGAN
18.06.1985
ROY ALAN MORGAN &
AMANDA JANE MORGAN
11.02.1995
SHIRLEY MORGAN
2003
SUE KING
manager
by 2009 - May 2014
-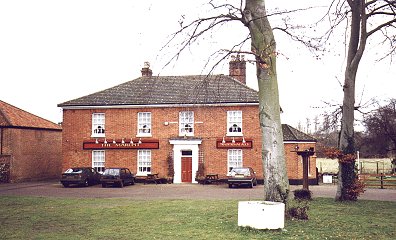 1997

License of the BULL, St. Stephens and the
FREE TRADE TAVERN, St. Peters transferred 1948.

Formerly a farmhouse, sold to S&P after WWII, opened 9th July 1948.

Listed 1950 as beer retail only.

July 1990 - Owners Courage Brewery given three months to repair the Grade II listed barn, part of the property. Courage pleaded that they had insufficient money in their budget.

Closed 2014

House awarded Asset of Community Value status July 2014.

Offered for sale April 2015 - £275,000

Purchased May 2015 by Cecile Bidet-Steele.....
Initially intended to reopen as the MARLPIT ARMS during 2016, but still closed when permission to refurbish as licensed premises and accommodation approved March 2018.