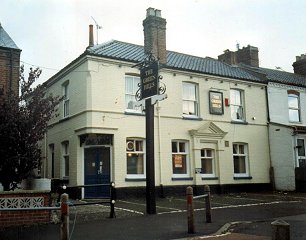 1993
Offered To Let, 23rd November 1831 - Apply James Campling at the
RIFLE MAN
.
On Wednesday 21st July 1841, Mr. R. Coates hoped to complete his task of walking 1000 half miles in 1000 consecutive half hours at the Green Hill Gardens.
On the Tuesday a full Military Band would attend and an admission fee of 6d would be for the Benefit of Mr. Coates. There would be Fireworks on the Wednesday evening.
The
NEW INN
to c1851
Given as the
NEW INN GREENHILL GARDENS
in 1850
As
GREEN HILLS
1851
A Balloon Ascent and Fireworks were advertised to take place on Monday 16th July 1855. A variety of Amusements included for the price of 3d admission.
GREEN HILL GARDENS
, St. Augustine's Road in 1868.
Offered February 1880 To Be Let from year to year with tenders to be received, on or before, 11th March, addressed to the Trustees of the Wingfield Charity.
A provisional licence was issued in 1886 for new premises to be built on adjoining land. The order was declared final 10th May 1887.
Damaged by enemy action 27/29.04.1942
Closed June 1995 and converted into dwellings.