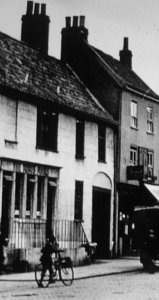 In Occupation of Messrs., Morse & Adams, or their undertenant, in October 1808 when Lot 10 in sale of property of Thomas Allday Kerrison, bankrupt.
Francis Spanton went to the
BELL INN
January 1850.
The Household Furniture, Brewing Plant, two Luggage Carts, Pony, Gig and Harness, with other useful Implements and Out-door effects, late the property of James Carver, an Insolvent debtor, were to be Sold by Auction Wednesday 22nd June 1836
Thomas Green, 15 years servant to Robert B. Humfrey Esq. and the late Reverend John Humfrey of Wroxham House, informed the Public October 1850, that he had entered the Inn.
Foreign Wines and Spirits.
Truman, Hanbury & Co's Stout and fine Ales were available in Draught or Bottle.
Offered to Let May 1853 in consequence of the decease of Mrs. Hillman - Apply to John Hillman on the premises.
Offered to let with immediate possession December 1854 owing to the death of Mr. William Elvish. Apply to Mr. Seaman, Wine Merchant, Norwich.
The Effects of Mr. Elvish were offered for sale, on the premises, by auction 28th February 1855.
Included were chairs, tables, feather beds, mattresses, bedding, chests of drawers, barometer with dial clock, carpets, looking glasses, fenders, fire irons, bagatelle board, several bedsteads and hangings, nearly new, blankets, pictures, prints. Also Implements in Trade, several dozen pewter, quart and pint pots, porter, liquor and wine glasses, spirit measures, earthen quarts and pints, gallon and half gallon cans, funnels, spittoons, keelers, glass decanters, earthenware, &c. And Out-door Effects of Two superior roan and black ponies (very fast), two excellent cad-gigs and dog-cart (nearly new) two sets of harness, wheelbarrow, stable implements, &c.
Francis Spanton thanked his friends and the public August 1861, for the patronage he had received for the previous 23 years and stated that he had hired the same ground at Yarmouth Races where Luncheon and the best of articles would be supplied.
At the Annual Licensing Meeting 28th August 1866 William Holmes applied for a new licence for a building built on premises already belonging to the Kings Arms. The house had been built at a cost of £450 and the intention was to replace the old dilapidated house, once the new licence was granted. The new licence would not be used until he had dropped the old one. Steward & Patteson objected and the magistrates refused the application.
Alfred Thrower applied, on Monday 24th August 1891, for a music and singing licence for the accommodation of the members of the musical society, which had used the house for ten years. Granted.
Damaged by enemy action 27.05.1942
Closed May 1968.