Licensees :
-
JOHN BENISON
vintner
to 1743
SARAH BENISON widow
February 1743
-
SAMUEL BARKER
1760
MARY BARKER
widow
1763
JOHN CLARK
Previously at the RED LION
04.1778
THOMAS PARSLEE
1782 - 1798
CHARLOTTE PARSLEE
(Sarah Parslee 1802)
1802 - March 1809
GEORGE RAMPLEY
March 1809 - 1827
SAMUEL LEGGATT
July 1827 - 1849
FRANCIS H. SPANTON
age 47 in 1851
1850 - 1854
WILLIAM CULYER
1855
JOHN MURNANE
Died 18th January 1860 - age 47
04.1855 - 1860
WILLIAM DeCAUX
(Bell Hotel Tap - Castle Meadow)
1859
BENJAMIN SMITH
by 09.1860
HENRY OWEN
05.07.1884
DORA OWEN
16.12.1885
JAMES DOWNE
05.05.1891
JAMES DOWNE &
FANNY LUCY DOWNE
06.05.1913
ALEXANDER FRANCIS PRATT
05.05.1914
KENNETH CAMPBELL McCULLUM
11.10.1921
THOMAS HILTON DENNEY
08.02.1944
GERALD GLANFIELD BOYD
13.07.1954 - 1965
ROY DASHWOOD
1974 to 1989
ROGER SNEDDON
04.1989
CLOSED
DAVE SMITH &
JANE WOODS
managers
12.1993 - 1994
RACHEL RHEE
assistant manager
01.1995
ROSS STERLING
manager
09.1995 - 1997
LINDA MURRAY
manager
1997
AARON HITCHCOCK
manager
02.1999
-
JAMES CHIPPING
manager
01.2003
-
In May 1851, staff of the Bell included Mary Ann Scotter the cook, Thomas Amis a waiter and James Fitt, boots. The latter being accused of stealing the cook's purse.
At a sale here Thursday 17th January 1862, Mr. O. D. Ray sold by Auction:-
1000 pairs of American Overshoes, 20 pairs of Enamelled Napoleon Legs, French Wellington Fronts, Men's, Women's and Children's Boots and Shoes; A genuine Grocery and Provision Stock, consisting of Sugars, Teas, Cheese, Fruit, 2 casks of American Beef, prime Bacon, Oranges, 300 pints of Butter, Normandy Pippins, Muscatels (in layers), &c., &c.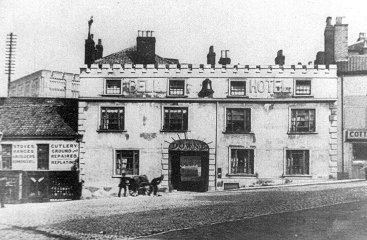 c1895
Before the adjoining ironmongers was demolished to give access through to Castle Meadow.

Believed to date from 1480.

Given as the BLUEBELL 1743 to 1822.

An advertisement dated 1725 reads:-
``There will be a great cock match at the Blue Bell at Hog Hill to show 31 cocks a side. For 2 guineas a cock and 20 guineas for the odd battle. Gentlemen will be accommodated with a glass of excellent wine and care will be taken to prevent disturbance by the Mob. ''

It was announced 5th & 19th February 1743 that Sarah Benison would continue to keep the BLUE BELL following the death of husband John.

The Hell Fire Club met here c1754.

John Clark announced April 1778 that he had taken the Blue Bell and had laid in a choice stock of Wines, Brandy, Rum, Porter &c.

The Norfolk Chronicle of 20th July 1782 announced ....
Thomas Parslee Respectfully begs Leave to acquaint his Friends, and Public, that he has taken on the commodious and well-situated Inn, called the BLUE BELL, on Hog-hill, where he has laid in a fresh assortment of the best Wines and Liquors, with the finest London Porter. He humbly solicits the Support of those who hitherto used the above Inn, and assures them, and all others who may be inclined to encourage his Undertaking, they may depend upon his utmost Assiduity and Attention being exerted to merit their Favours.
Note : London Papers taken every day.

The Revolution Club met here (Founded 1793)
Embraced the views of French revolutionaries.
Members said to be `of the lowest description'.

The house was engaged for Freeholders, the Friends of Sir Edward Astley, Bart. and Thomas William Coke, Esq. on Wednesday 14th April 1784, being the Day of Election. (One of 53 such houses in Norwich)


23rd November 1804 : Charlotte Parslee offered a Reward of Five Guineas to any person who successfully reported the offender or offenders, responsible for stealing a Mahogany Trunk from an upper room of the BELL INN on the evening of Sunday 18th November 1804. The Trunk contained a black silk spencer (?), a black silk cloak, trimmed with crape, a black shawl of Norwich manufacture, a square Japan muslin shawl and a black silk bonnet.
All had been recovered having been found in the stables of the LAMB INN.


One of 36 Norwich houses opened for the reception of Voters in the interest of Mr. Windham and Mr. Coke on election day Thursday 13th November 1806. The name of the Hundred for which the house was appropriated was to be displayed at each house.


Charlotte Parslee announced 9th March 1809 that after twenty six years, she was compelled to leave the house and had taken on the WHITE LION, White Lion Street.
The information was published again on 25th March 1809 and at the same time, George Rampley announced that he had taken, that day, possession of the BELL INN. He had previously been at the GEORGE INN, St Stephens.

Samuel Leggatt advised, 7th July 1827, that he had taken Possession of the Bell Inn, and sought the continuance of the Patronage previously given to Mr. George Rampley, his predecessor.
A Stock of the Choicest Wines and Spirits, London Brown Stout, Fine Ales, &c., had been laid in.
Commercial Gentlemen and North Country Gentlemen would find the most utmost attention paid to their comforts.

The Eldon Club, founded 1831 met here.
(The Duke of Wellington was a member)

On the evening of Friday 16th February 1835, a respectable party of friends met to celebrate the opening of a new large room there. An excellent collation was tastefully served up by the landlord, Mr. Leggatt, which together with the wine and dessert, gave great satisfaction.

On the 15th March 1845, Samuel Leggatt thanked the Ladies and Gentlemen who had patronised the Inn for the previous 17 years and advised them that he had completed the most Extensive Alterations. Flies were in constant attendance to the Railway Station and an Ordinary was served every day at Half-past One o'clock, at Moderate Charge.

Mr. Samuel Leggatt was hired to supply two dinners for the Royal Agricultural Society held in Norwich in 1849. Mr Leggatt had been the only one to tender for the occasion and apparently there had been problems. After the event there was much public discussion among Committee members, with William Burroughs, Chairman of the Local Committee claiming that he had doubts `about the competency of him serving such large dinners, on account of his lameness and infirmity.'

5th January 1850 - Mr. F. H. Spanton, late of the KINGS ARMS INN, Timberhill, advised his Friends and the Public in general that he had taken the BELL INN with a determination to merit their continued support.
Burton Ales being on draught and Post Horses available to all parts of the Kingdom.......

The Directors of the Eastern Counties Railway appointed Mr. Spanton to provide Omnibuses, Cabs, &c. for conveying Passengers to and from the Stations - November 1851.
On the same date, the Proprietors of the NORFOLK HOTEL and the ROYAL HOTEL informed that, notwithstanding recent arrangements made by the Eastern Counties Railway Company, they would continue to convey passengers at the usual fares. They also stated that although they would no longer be able to stand in the Station Yard, they would await outside the Station Gates and convey to any part of the City, Free of Charge.

A fire broke out at 10:00 pm on Tuesday 26th April 1853 in a third storey room used by servants. So fierce was the fire that the room could not be entered, but a hose, fed from a hydrant near Red Lion Street, delivered a plentiful and continuous supply of water through the window. Fires also broke out in adjoining rooms and the bedroom below. The main fire was subdued in about ten minutes and the other fires were swiftly extinguished. There was substantial damage but Mr. Spanton was insured with the Sun office.

Mr. Spanton said that, owing to the respectability of the friends of Alfred Baker, errand boy at the Bell, he had no desire to prosecute the lad for having stolen ten shillings and a pistol from him and six shillings from the ostler.
The boy was reprimanded and discharged at the hearing held Saturday 14th May 1853.

The Sale by Auction, Tuesday, 19th December 1854, of the Household Furniture, Plate, Linen, Glass, Bar Utensils and other Effects of Mr. T. H. Spanton was "under a Fiat of Bankruptcy."

On 3rd March 1855 William Culyer announced that he had entered the Inn and would be providing an Ordinary at 2:30pm and 3:30 pm on Market days.
This seems a short lived occupation, since on 19th April 1855, Mr. John Murnane advised that the Hotel was about to undergo very important alterations to afford greater accommodation.

Members of the Norwich Glee Club met here Tuesday 11th September 1855 and were reminded of the glorious achievements in the Crimea and the toast `The fall of Sebastopol' was given. Following three hearty cheers, Mr. Love sang `Once more old England's warriors.'

The Glee Club met here on the evening of Wednesday 13th October 1858. Glees included "Here in cool grot," "Look on the bright side of life" and "The brave old Teneraire." The Band performed the overture to Figaro and the Excursion Gallop with great spirit and precision.


In 1858 John Murnane, proprietor, advertised `The most central and cheapest family and commercial hotel in Norwich'.

6th September 1860 - Benjamin Smith thanked his many friends for the patronage hitherto received and begged to state "that no exertion shall be wanting on his part to merit that decided preference given to his house by the proper execution of those duties necessary to their domestic comforts and convenience...." and he felt "particularly anxious to assure Visitors at the Ensuing Festival that they will find their comfort sedulously attended to."

Benjamin Smith informed his Friends and the Public that the Large Room would be Re-opened on Fair Day 18th April 1867.

Advertised 6th September 1873 to be Sold by Auction later in that month with possession at Lady Day (25th March 1873)

Used as headquarters and billets for the American Women's Army Corps from 1943 to 1945.

Reginald Charles Thomas Smith was manager of the premises in September 1943 when accusations were made that black-out curtains in the stock room were not drawn properly and allowing light to show.
The case was dismissed Saturday 11th September 1943.

Closed in 1960's to mid 1970's

Reopened as a freehouse c1976.

Offered for sale May 1989 for £3,500,000.
Purchased by property developers by October 1989.

Reported as closed 12th October 1989.

Reopened late December 1993 as the first J. D. Weatherspoon's operation in Norwich.

Part of the building used as a Building Society, later offices of the Santander Bank.