Licensees :
WILLIAM TAWELL / TOWELL
gardener
1760 - 1763
Mrs TOWELL
1783
EDMUND BENSLEY
from Oct 1792 ?
ROBERT CHALKER
1803 - 1812
Mr. J. SIMMONS
1814 - 1817
JAMES PIGG
1836 - 1842
SAMUEL LEGGATT
1845
WILLIAM MOY
age 49 in 1851
(Melville gives as William MAY 1856)
1846 - 1859
DANIEL PURDY
08.1859 - 1861
JAMES MOORE
by 1866
Accused 5th September 1866 of keeping his house open at unlawful hours the previous Sunday.
Outcome yet to be discovered
Summoned Wednesday 6th March 1867 for keeping house open for the sale of beer at unlawful hours on the previous Sunday - Case dismissed.
Licence refused Tuesday 27th August 1867
-
GEORGE PEARMAN
(also as Pearmain)
23.10.1871
HENRY WYATT
10.10.1872
Convicted 29.01.1876 of allowing consumption out of hours.
Fine £3 plus 18/6d costs.
JOHN BARRETT
Age 50 in 1911.
House renamed KING GEORGE in 1914
02.03.1884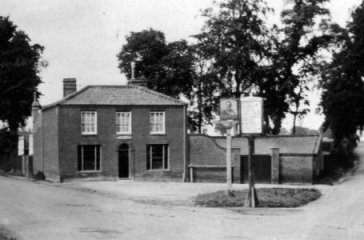 c1910
Probably the house known as the
HARFORD BRIDGES HOUSE
in September 1740, described as a good drawing house, very commodious with good stabling and offered to be let from Michaelmas? Enquire of Mr. Peter Harvey at his Norwich Brewing Office.

Mrs Towell was said to be in residence when the house was broken into and a great quantity of wearing apparel, liquors etc were stolen, Friday last.
Norfolk Chronicle Saturday 15th February 1783

Edmund Bensley announced October 1792 that he was in occupation of the Rural Gardens at the King of Prussia and had a variety of Forest Trees, Flowering Shrubs, Gooseberry Bushes, Currant Bushes and Strawberry Plants for sale.
Robert Chalker the elder, innkeeper of Lakenham, mentioned 1812 concerning lease & release of properties at 12, 14 & 16 Rising Sun Lane, Norwich - assignment term of 500 years.

Found as the PRUSSIA GARDENS 1801 - 1914.
(At St Stephens Road in S&P document recording first supplied 1848)

As the TEA GARDENS 1836.

As at Prussia Road, Lakenham 1845.

Daniel Purdy applied for the licence to be transferred to new premises Monday 29th August 1859 - Granted.

At Old Lakenham 1869
Renamed the KING GEORGE 09.09.1914
following (It is said) a group of soldiers tearing down the sign.