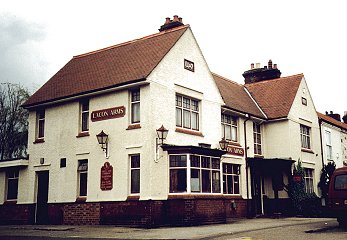 April 1997
First application for provisional licence for new premises to be erected at corner of Junction road and Shorncliffe road was reported in the Norfolk Chronicle of 14.02.1903.
Licence applied for 13.02.1904 by William Edward Howling, manager for Lacons. Refused.
First licence granted following removal from the
ROYAL EXCHANGE
, St Peter Mancroft, 28.11.1922.
From a date stone on the building this appears to be the date the building was actually completed.
Name of
LACON ARMS
officially effective from 29.11.1922.
Trade in 1993 was 20.3 barrels of "own" beer, 105.4 of "foreign" beer and 4 of cider. Wine trade totalled 62.1 litres whilst 158.8 litres of spirits and 1,619.7 litres of minerals had been sold.
Over the first nine months of 1994 trade had accounted for 44.1 barrels of "own" beer, 71.1 of "foreign" beer and 2.7 of cider. 28.5 litres of wine had been sold as well as 162.5 of spirits and 1,873.9 of minerals.
The rent was £11,250 per annum with £400 insurance.
All "wet" products were tied to the brewery.
Closed February & boarded up by June 2006
Converted into flats