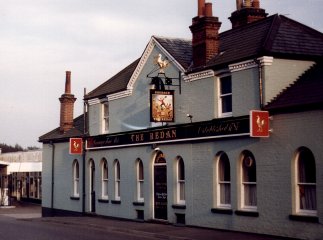 c1987
Named originally the
HERO OF REDAN
,
after Sir Charles Ashe Windham - of Felbrigg.
As Major Charles Windham he had led the attack in 1855 against the Redan at Sebastopol
Zachariah Bright applied for a new (full) licence 1st September 1857 - it was refused.
Robert Burton applied for a new (full) licence 19th August 1862 - it was refused.
On 25th August 1863 a new licence was issued, backed by a number of highly respectable persons residing locally.
On the night of Thursday 5th November 1863, Mrs. Burton was proceeding towards her house at about a quarter past six.
A short distance past the
COACH & HORSES
, she was seized by a man who threw her against a fence and attempted to get at her pocket.
She cried out `Murder' and the assailant attempted to throttle her, but her cries were heard and as assistance arrived, the man ran away.
Armed with a description of the fellow, the police anticipate an arrest.
Building bears the date 1876.