Licensees :
HENRY FEAR
1760 - 1763
JAMES LEECH
1788
-
WILLIAM PLAYFORD
age 31 in 1851
1851 - 1868
Licensee cautioned Tuesday 4th September 1860 for having been summoned during the previous year.
The Mayor warned the tenant to be very careful how the house was conducted, else the magistrates would act rigorously.
Notice was given 28th May 1862 that William Playford, late of Rising Sun Lane, Licensed Victualler, an Insolvent Debtor, lately discharged from her Majesty's Gaol....... would be examined on Monday 16th June 1862 to determine what place or places the real; estate of the said Insolvent should be sold by Public Auction or Private Contract to the benefit of the Creditors.

Lot No.1 in the Sale by Auction of the Estate of the late Isaac Jackson, Monday 26th May 1788.

Address given as Golden Ball Street 1845
89 Buff Coat Lane 1851?
see GOLDEN BALL
William Playford is given at 2 locations by Melville in 1856.
1. At the Rising Sun - Rising Sun Lane
2. At the Rising Sun - Golden Ball Street

This suggests site is on opposite corner to the Golden Ball.
Craven (1856) gives :-
William Playford at the Rising Sun Inn, Rising Sun Lane
(& William Girling at the Golden Ball Inn, Castle Ditches).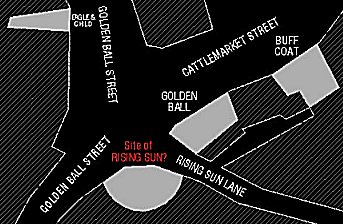 Not found in licence registers from 1867.