Licensees :
-
MATTHEW BUTTIFANT
cordwainer 1760
worsted weaver 1763
1760 - 1783
WILLIAM HOUGHTON
1806 - 1807
JAMES CARVER
See below
1810 - 1817
J PAGE
1822
WILLIAM GIRLING
age 51 in 1851
1830 - 1859
JOHN HARDY
& shoemaker
04.09.1860 - 1861
CHARLES THOMPSON
1864
WILLIAM HARVEY
1865
DONALD STEWARD
*1867
WILLIAM PLAYFORD
1869 to 1893
JANE ELLEN PLAYFORD
08.08.1893
WILLIAM MICHAEL ANDREWS
16.01.1906
Convicted 04.04.1918 of selling out of hours -
Fine £5 or 13 days detention.
CHARLES HOGG
25.11.1919
EDWIN THOMAS ELLIOTT
08.02.1932

Convicted 10.02.1933 of permitting drunkenness -
Fine £5 or 1 months detention.

Convicted 10.02.1934 of selling out of hours -
Fine £2 or 21 days detention.

JOHN ARTHUR HAMMOND
05.04.1938
Mrs HAMMOND
20.08.1957
PERCY SHEPHEARD
16.05.1961
| | | |
| --- | --- | --- |
| | | |
| | James Carver, formerly of the Golden Ball, afterwards of the WHITE HART and late of the KING'S ARMS, Publican and Corn & Seed Merchant and Hay Dealer was to appear at the Court for Relief of Insolvent Debtors, at the Court House, Norwich Castle, 19th July 1836. | |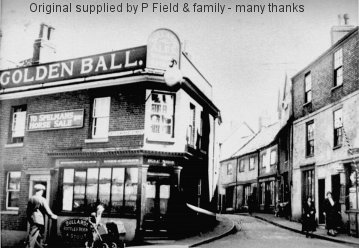 c1950
Address given as :-
Castle Ditches 1783
Castle Hill 1830
Cattlemarket 1836
Golden Ball Street 1845
Golden Ball Lane....
18 Cattle Market Street in 1900 - 1908
18 & 19 Cattle Market Street in 1912 - 1937

For sale by auction 15th February 1811, advantageously situated next the cattle market on the Castle Ditches, with large yard, a spacious stable and a piggery, well adapted for the accommodation of persons resorting to the market with their cattle. In the occupation of Mr. James Carver.

Offered To Let April 1814. With Stables, Piggeries, large Yard and other Buildings. The most desirable Situation in Norwich for a Dealer in Stock, Hay or Corn, Seed or Liquor Merchant.
Possession at Michaelmas.

In November 1815, twenty acres of Capital Turnips were advertised for sale - Apply of Mr. Carver, Golden Ball Inn.

March 1817 - James Carver of the Golden Ball, informed Gentlemen, Farmers and others that he had for sale a large quantity of Suffolk Hardland Grass Seeds of superior quality.

Mr. C. Thompson of the Golden Ball advertised 5th November 1864 that a beer engine, in excellent preservation, being only installed for three months, was For Sale.

Stood on the corner of Cattlemarket Street and Rising Sun Lane.
The licensing records state that the house was previously the Rising Sun. However both houses are listed 1865 and before. William Playford appears at the Rising Sun from at least 1851 to 1867. It seems that when the RISING SUN closed c1867 William Playford took on the GOLDEN BALL and the licence from the RISING SUN came with him.

1868 reference states that licence was dropped, this is presumably the Full Licence from the original GOLDEN BALL dropped to the Beerhouse licence of the previous RISING SUN?
The property was compulsory purchased according to note from Customs Office dated 23.03.1962 and trading was (said to be temporarily) discontinued.

Name `recently' removed from licence register according to document dated 23.11.1966