Licensees :
FRANCIS CLARKE
1833
JOHN FRANCIS CLARKE
1834 - 1839
JOHN LEATHERDALE
age 30 in 1841
Went to YORK TAVERN
1841 - 1842
ROBERT SMITH NASH
according to White
1845
ABRAHAM LING
according to magistrates 1845
age 46 in 1851
1845 - 1864
WILLIAM RICHES SMITH
29.03.1864
W. LIVOCK
1865
FRANCIS HUMPHREY SPANTON
by 1867
NEVILLE NUTHALL
13.10.1868
WILLIAM ELDEN
age 46 in 1871
06.04.1869
ROBERT COLLETT
20.05.1873
GEORGE FREDERICK REYNOLDS
age 47 in 1881
died Q1 1882
27.05.1873
Convicted 30.10.1875 of selling out of hours.
Fine 1/- plus 17/6d costs.
LEANDER ANSTEAD BROWNE
age 55 in 1891
died Q1 1896
28.03.1882
JANE BROWNE
died Q3 1900, age 64
11.02.1896
LEWIS HENRY BROWNE
age 42 in 1901
died Q2 1902
24.08.1900
MARY HELEN BROWNE
13.06.1905
MARY HELEN GIBSON
(Married Walter Moses Gibson Q3 1906)
Walter died Q4 1914
1906
Convicted 16.04.1915 of allowing consumption out of hours.
Fine 6/- or 7 days detention.
Convicted 17.10.1917 of selling out of hours.
Fine 20/- or 13 days detention.
GEORGE WILLIAM RAYNER
01.10.1918
Convicted 07.01.1927 of selling adulterated brandy.
Fine £3 plus 15/- costs or 21 days detention.
FRANCIS JESSE JOLLY
29.08.1950
ALBERT EDGAR BRADY
08.02.1955
REGINALD ALFRED JAMES
02.10.1956
RONALD HENRY GEORGE FILBY
21.11.1961
JOHN MURRELL CORK
21.07.1964
FRANK REGINALD SMITH
29.09.1969
FRED & PEGGY LAWRENCE
went to VOLUNTEER
05.09.1972
ROBERT KEIR McMILLAN
05.09.1978
KENNETH JAMES EDWARD SEAGO
09.10.1979
WILLIAM McCALLUM STEELE
13.09.1983
NICHOLAS JOHN PRIESTLE &
PAUL RANDALL FORWARD
11.02.1986
STEPHEN COOPER
26.06.1990
ROGER GRAHAME WATKINS &
M. PEPPER
20.12.1994
ONE & ONLY 1996 to 2001 then the
MARQUEE AT THE SHIREHALL from June 2001
DIANE BURGESS & DAVID DOWSON
06.2001
DARREN ROGER PACEY &
TARA JANE PACEY
01.11.2001
Back to the SHIREHALL November 2003
MAL CHAPMAN
08.11.2003
Closed May 2010 - November 2012
MARQUEE from November 2012
JAMIE MILES &
LAWRENCE GEIB
November 2012
-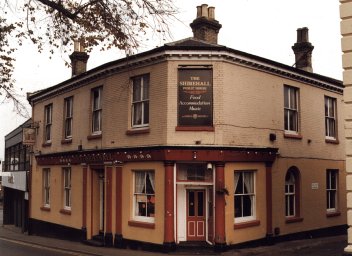 November 1987 - Image by Barry Wilkinson.

Address as Castle Ditches 1834.

All the Modern Household Furniture, Time Pieces, Billiard Table, Three-motion Beer Engine, Fixtures, Wine, spirits and other effects of Mr. J.F. Clarke were offered for sale by auction Tuesday 29th and Wednesday 30th September 1835. 18 prime liquor casks plus Port, Sherry, Claret, Champagne, Brandy, Rum, Gin, Shrub and other liquors were included in the sale. The effects included some 60+ named items from bedsteads to chintz covers to pots and pails.

~

It is recorded that Steward, Patteson Finch & Co owned the freehold of a house named the SHIREHALL which was situated in the parish of St. Peter Mancroft. This house was first supplied by Steward & Co in the year commencing November 1839. Further Steward & Co documents give the status of the house as leasehold.
In 1845 Steward & Co are given as the owners (leasehold?) of the NEW SHIREHALL and the location is given as Castle Meadow, St. Peter Permountergate.

In June 1861 it was reported that very important improvements were about to be carried out. A new road was to be made from Castle Meadow to Thorpe, getting rid of the "abominable nuisance of Rose Lane". The committee recommended the sum of £20,000 should be borrowed for the complete project, which included the demolition of three blocks of buildings, including the whole range from the BOARDED HOUSE up to Holkham lane on one side, and on the other, the entire block from Pump street..... Included in the plan was the removal of the Shirehall Tavern to the top of Rose lane.

Abraham Ling, of Castle-hill, Mountergate, obtained on 25th August 1863, a licence for a new house in lieu of the old SHIREHALL TAVERN, which he had kept until it was pulled down.

Recorded as the NEW SHIREHALL TAVERN, St. Peter Per Mountergate in 1864.

In the Magistrates Court, Wednesday 25th May 1864, William Smith Richards was accused by his wife, Catherine, of assault and of threatening her life. Apparently Mrs Riches had suffered years of brutal conduct and her husband spent a great deal of his time to cohabit with another woman who lived in Yarmouth. Admitting the assault, Riches said that the woman had refused to give him money that he had a perfect right to demand.
Mr. Riches was fined £2 and expenses or 21 days' imprisonment.

Leander Brown applied, on Monday 24th August 1891, for a music and singing licence which was granted without opposition.
Records dating from 1894 give the location as Castle Hill, St. Michael at Thorn. (Then the house appears to have been owned by Bullards )

Address given 30th July 1895 as Castle Meadow.

Damaged by enemy action 27/29.04.1942.
Grand Metropolitan, owners of Manns & Norwich Brewery, applied October 1989 to demolish the building, claiming it was structurally unsound and the site was appropriate for a multi-storey office building. Surveyors did not support the statement and the planners rejected the proposal.
House closed June 1990
Grand Met appealed against the decision but in March 1991 the government inspector upheld the rejection of redevelopment.

New owners following auction in 1994 when house, described as derelict, selling for £63,000.
Sold again 6 months later to reopen by October 1995 with an Australian theme which included an internal mural of Sydney Harbour and a somewhat bright yellow exterior which could at best be described as noticeable.

Became the ONE & ONLY July 1997, following a repaint June 1987.
Closed March 2001

Reopened as the MARQUEE AT THE SHIREHALL June 2001

Back to the SHIREHALL November 2003
Closed May 2010

Reopened as the MARQUEE November 2012

Became the OWL SANCTUARY by May 2014.
Closed 31st January 2016.
Listed as an Asset of Community Value following 2016 closure.