Licensees :
-
-
JOHN BRIGGS
according to Magistrates
1845
DANIEL ARMES
1845 - 1846
HENRY JOLLY
Previously at the WHITE LION
March 1847
EDWARD WIGG
age 36 in 1851
25.12.1849
(JOHN KING)
(1861)
RICHARD PETCHELL
25.03.1862
Old licence set aside owing to previously being fined for offences against the tenor of licence - Renewal considered Tuesday 25th August 1863.
Landlord cautioned Tuesday 29th August 1865 for having house open at unlawful hours for the sale of beer.
RICHARD WATSON
29.09.1865
FRANK SEAGER
25.03.1866
Charged Monday 30th March 1868 of breaking and entering the warehouse of Messrs Holmes & Sons, engineers and with labourer William Bone, stealing 28 dozen files. - Committed to trial.
JAMES CARTER
05.05.1868
Accused 24.03.1872 of being open out of hours.
AGNES CARTER
23.06.1896
AGNES BIRD
27.11.1907
DOUGLAS ARTHUR OLIVER BAKER
01.01.1929
GEORGE JAMES BETTS
12.02.1929
ARTHUR WISEMAN
24.11.1931
ETHEL MAUD WISEMAN
05.05.1942
Convicted 22.03.1946 of allowing consumption out of hours.
Fine 5/- on each of 2 cases.
GEORGE WISEMAN
03.06.1947
WILLIAM ERNEST STRUTT
30.12.1947
IVY EMILY STRUTT
09.05.1950
HERBERT WILLIAM BATCH
08.05.1951
JOSEPH GRIGGLESTONE
30.09.1958
HERBERT PINFOLD
08.03.1960
FREDERICK WALTER REILLY
01.01.1963
FREDERICK ARCHIBALD SAMUEL DAYNES
12.06.1963
JOHN KEDGE
20.07.1965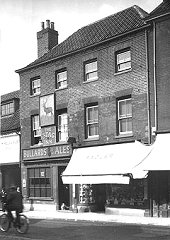 27.08.1938
Image by George Plunkett - shown by permission - Copyright © G.A.F.Plunkett 2002
Henry Jolly announced 27th March 1847 that he had left the
WHITE LION
and taken the
STAG
. He offered Fine Ales, London Porter, Wine and Spirits of the first quality, good Stabling with a lock-up Coach-house. Most essentially he provided Well-aired Beds.
Address as 111 St. Benedicts to 1889.
Stood on the North side of St. Benedicts between St. Swithins Terrace and Beehive Yard.
Badly damaged by enemy action 27/29.04.1942.



In 1859, Edward Wigg sold two acres, seventeen and a half perches of land at Heigham. The land was serviced by the new street of twenty six feet wide, known as Devonshire Street. The sale included those three new houses and buildings lately built on that land and two houses also lately erected and built on this land, together with all other houses, outhouses, edifices, buildings, ways, paths, passages, watercourses.....etc.
The whole was sold to William Mills Berry for the sum of £100.





House No. 198 on 1845 Magistrates list.