Parish given as
St Mary In the Marsh
pre 1825 and in 1851 census.
Previously the
SADDLERS ARMS
according to the Licence Register.
However both the
SADDLERS ARMS
and the
HORSE SHOES
appear as separate entries in early directories.
It seems that the two houses merged c1870.
(
SADDLERS ARMS
given to 14th October 1870)
The GOLDEN HORSE SHOES is given 1745 / 1760
Also found as the THREE HORSE SHOES.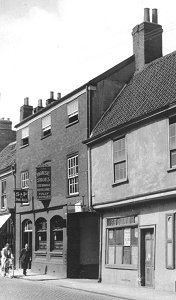 07.08.1939
Image by George Plunkett - shown by permission - Copyright © G.A.F.Plunkett 2002

Robert Goffin was summoned before the magistrates 26th November 1842 accused of an assault on John Beck, of Heigham. On the previous Saturday Mr. Beck had entered the house to meet a gentleman. Mr. Goffin, seeing he was `moved with choler' ordered him out of the house, and without giving him time to make an exit, took up a red hot poker and touched Mr Beck on the side with it, and burnt his jacket. The case was dismissed with each party ordered to pay half the costs since the Magistrates thought that Mr. Beck should not have gone to the house.

All those in debt to the late Robert Goffin were requested to settle their accounts within one month of 2nd November 1850 as requested by Executors Alexander Goffin, farmer of Strumpshaw and Edward Goffin, saddler of Palace Street, Norwich.

Damaged by enemy action 27/29.04.1942

31½ barrels of beer sold in the final year of trading.

Closed 20.02.1959
Licence transferred to the HEARTSEASE.
(provisional removal granted 10.02.1959)