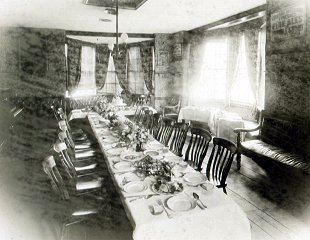 One of the rooms set out for a meal, at some time during the time of J. R. Booty. (1892 - 1911)
Advertised to Let, with Immediate Possession, 1st October 1831. Described as a Capital, Newly-erected Inn, with commodious Stables and Outbuildings and particularly well calculated from its situation to command an extensive Market Trade. - Apply to Messrs. Steward, Patteson, and Co. Pockthorpe, Norwich.
On 19th November 1831 Thomas Lovewell, previously at the
WAGGON & HORSES
, advised the public that he had taken this New Inn. He offered Wines and Spirits of the most superior quality, Well-aired Beds, Good Stabling and Gig Houses. Horses and Gigs were available for Hire at the Shortest Notice. He could also supply the Best White Wine Vinegar.
By October 1832 he had taken the
BRIDGE
, Lenwade.
On Monday 21st March 1842, John Jary, publican of St. Giles, was detained on the suit of Messrs. Youngs and Burt.
Also found as the
THREE TUNS
Address as St. Giles Gate in 1845.
At Chapel Field Road 1851

A newspaper report of 26th June 1869 records Edward W. Nursey as licensee. He was summoned for assault on Frances Langton, wife of the city librarian. Supported by witness statement that he had not used foul language or assaulted the complainant, but only took hold of her arm to put her out of the house, the case was dismissed.
The licence registers and trade directories only ever record Henry Nursey.

On Friday 12th October 1871 Henry Nursey was accused by Mary Ann Watcham of having assaulted her on the previous Wednesday. Watcham had entered the house and commenced to verbally abuse the man she said was her husband, who was ostler at the Tuns and who would drink half a pint of whiskey at a sitting, which she disapproved of. He had not been sober since he received pension money. (This revelation caused laughter in the courtroom). Wednesday was pension day and Watcham feared that all of his money would be spent. Henry Nursey had said that the man was not her husband and she only wanted his money. She said that Nursey had violently pulled her up from a chair. A witness said he had seen Watcham cause a disturbance and Mr Nursey order her out, but had seen no assault.
Case dismissed.
One of the upstairs rooms was the scene of Martin Stally committing suicide by hanging. His ghost is said to haunt the house.
Martin Stally suffered from rheumatism which was said to make him despondent and uneasy at times. On Thursday 10th March 1881, at 6:30 pm, his wife discovered him hanging from a beam in the bedroom. George Woods from the adjoining cab stand was immediately called and he cut the body down. Aged 45 and leaving five children, on Friday 11th March, his suicide was said to be "Whilst in a state of unsound mind."


George Watering made an application, on Monday 24th August 1891, for a music and singing licence but it was opposed by the Chief Constable and consequently refused.
Damaged by enemy action 27/29.04.1942
Renamed the TEMPLE BAR November 1999





House No. 500 on 1845 Magistrates list.