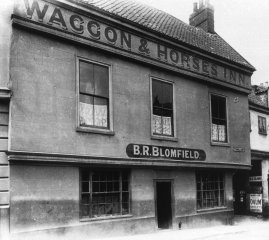 c1900
Dates from 1771.
Built on site of earlier 14thC building,
of which the crypts survive.
Address in 1802 as 13 Tombland.

Henry Morris, brewer to Messrs. Steward & Patteson, Steward for 24 years, informed the Public, 26th March 1831 that he had taken the Inn.
He offered Fine Purl at six, every morning and Ox-tail and other soups at 11 o'clock.

Advertised 27th August 1831 To Let with Immediate Possession. Then in occupation of Mrs. Morris.

John Bushell acquainted his Friends and the Public that he had taken the Inn, 1st October 1831.

Mr. Edward Howell prepared a most excellent dinner for the 19th anniversary of the Eldon Club, held in the Club-room on Tuesday 8th October 1850.The event was said to be the most joyous and spirited celebration since the society was instituted in 1831.


On 30th June 1852, eighteen year old Edward Aldous was sentenced to two weeks in prison having pleaded guilty, Wednesday 30th June 1852, of having obtained a coat from inn-keeper William Tiffin, under false pretences. He was placed in the infirmary owing to a cancerous arm. He had stolen the coat from the WAGGON & HORSES.

Licensee William Tiffin appeared before the magistrates on Saturday 20th January 1855 charged with conducting himself improperly towards one of the officers and two of the privates of the West Norfolk regiment of militia.
On the 17th January one of the privates had complained to his officer that he was not allowed to smoke within the premises at which he, and others, were billeted.
Lieutenant Bedingfield and Sergeant Tuck investigated and Tiffin used offensive language towards the officer. For that Tiffin apologised but said that the private had smoked in the kitchen whilst cooking was going on and had refused to go to the porter room where it was allowed.
The private confirmed the situation and both parties were advised to accommodate each other in the future.

Offered to Let from Michaelmas 1856 having recently undergone extensive alterations and repairs and replete with every convenience required. An excellent Coach-house attached and Stabling for 40 Horses.
Apply to Messrs. Steward, Patteson, Finch and Company, Pockthorpe.

7th August 1858 - Frank Riley (Francis) thanked his friends at the WHITE FRIAR'S TAVERN, for their support over many years and advised that he had taken the WAGGON & HORSES, where they would find everything comfortable and thoroughly up to the mark.
P.S. CALL IN AT THE "WAGGON".

Joseph Wilde announced 5th November 1864 that he had taken over from Mr. Frank Riley.
In 1902 brewers Steward & Patteson followed the Edwardian trend of creating a `Tudor style' image by creating exposed timber frontage. Comment at the time was that medieval character had not been obtained and Georgian character was lost .
( Nearby properties the Samson & Hercules and the Maids Head Hotel received similar treatment.)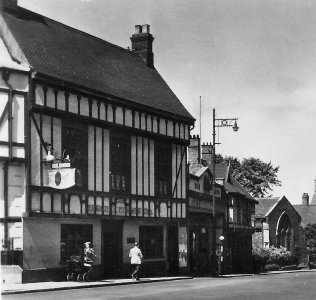 c1960


Renamed the LOUIS MARCHESI in 1976.







See page 32 of `Norwich In Old Postcards - Vol 2 ' published 1989.