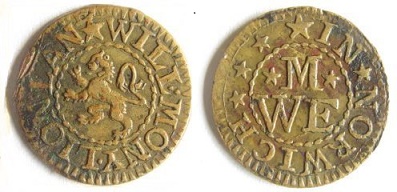 William Mony (Money) token.
The house was engaged for Freeholders, the Friends of Sir Edward Astley, Bart. and Thomas William Coke, Esq. on Wednesday 14th April 1784, being the Day of Election. (One of 53 such houses in Norwich)
It was reported 9th May 1789 that an officer of excise, James Dudson had lodgings at the
WHITE LION
. He had been dismissed from service and had been found hanging in a bed chamber. At the inquest held Thursday 30th April 1789, a verdict of suicide was recorded and the unfortunate character was buried at the crossroads outside St. Benedict's Gates.
George Waters, late the
HALF MOON
, advised 3rd October 1789 that he had taken over the White Lion, late James Tilney.
Robert Preston, late Ostler at the Rose, St Augustine's advised 8th October 1791 that he had taken the Inn and laid in the best Wines and Spirits.
Elizabeth Preston informed the public, in the Norfolk Chronicle of 6th December 1794, that she intended to carry on the business of her late husband.
18th February 1809 - All those with Claims or Demands upon Elizabeth Preston, late of the White Lion, were requested to send their account to Mr. Woodrow at St. George's, the assignee of her Effects. All persons indebted to the said Elizabeth Pearson were to settle their debts immediately.
Mrs Charlotte Parsley announced 25th March 1809 that she had left the
BELL
on Orford Hill after 26 years and taken on the
WHITE LION.
The adjoining premises, occupied by Messrs. Coles and Hawkes, had been acquired and would be utilised for the expansion of the
WHITE LION
. Her Friends and the Public were advised August 1810 that the adjoining premises had been fitted up in a manner to afford every comfortable accommodation.
It was advertised 22nd April 1815 that Mrs.
Parslee
would take care of and forward all orders and parcels, for Mr. James Bell (Flour, Meal and Offal provider) of the Steam Mills, Trowse.
Offered To Let, June 1834.
The situation offering the shortest communication between the Market place and the Cattle Market, either being a little more than fifty yards distant.
Offered for sale by auction Friday 29th August 1834.
Free of Brewer and Wine & Spirit Merchant.
Old- Established, Well Accustomed and highly respectable. `Possession to be shortly relinquished by the present tenant'. House then apparently owned by Mr. Doughty of Brockdish.
Robert English informed his commercial Friends and the Public in general that he had taken the Inn - 20th September 1834.
On 4th October 1834, Mr. English, late of the Crown, Botesdale, confirmed that he would adhere to the principle of `Unremitting personal attention to the comforts of his guests and strictly moderate charges.'
He was to hold his Opening Dinner on 24th October 1834.
To Let on reasonable Terms - March 1836.
Situated on the shortest and most frequented communication between the Market Place and the Cattle Market. A spacious and convenient Inn.
A Free Inn for Let as advertised 20th September 1837.
Situated between two markets and neatly fitted for Commercial Gentlemen with good stabling and in good repair - ` Possession to be held at New or Old Michaelmas next, when current occupier, Mr. Carter, retiring from business.'
Address as 20 White Lion Street in 1861.
Mrs Susan Hart stated at the Licensing Sessions held Tuesday 25th August 1863, that she had kept a public house for fourteen years and never once been complained of. She obtained a licence for the house she then occupied, which was
formerly part
of the
WHITE LION
.
In 1882, the
ROYAL HOTEL
was offered for sale, the Estate included properties off White Lion Street, once part of the
WHITE LION INN
.
Richard Waterson made an application, on Monday 24th August 1891, for a music and singing licence for an upper room. The Chief Constable objected but said if the licence applied to a room at the back, he would have no objection. The licence was granted on that basis.
Became the HAYMARKET STORES from 26.01.1914


House no 178 in 1845 Magistrates list.