6 day licence granted 1876.

Application made 23rd August 1877 refused on the grounds that a Restaurant was Not a Public House.

The NORTHUMBERLAND ARMS to 1876

41 Nelson Road in 1881 & 1888.

J. W. Nightingale applied for a music and dancing licence on Thursday 23rd April 1891 - Granted.
(He also applied for same licence for the THEATRE ROYAL and for Winton's Assembly Rooms)

Closed for the duration of the war according to a letter dated 05.06.1941.

Demolished by enemy action 27th February 1941.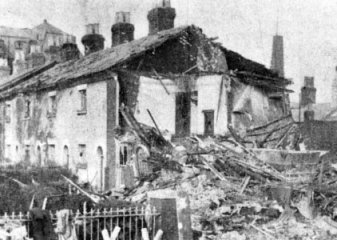 February 1941 - image thanks to Colin Tooke.

Licence removed to the SHADINGFIELD LODGE, Marine Parade, provisional grant finalised 19.08.1952
Licence finally removed to Shadingfield Lodge 22.05.1953