Licensees :
JAMES SHARMAN
See below
1845 - 1846
JAMES K. LAWSON
1850
EBENEZER LAYTON
1854
JAMES SHARMAN
1856 - 1858
JOHN GARROD
1863
Mrs. L. A. GARROD
1865
JAMES NELSON SHARMAN
1865 - 1875
Monday 4th December 1865 - Fine of 10s and costs for being drunk and disorderly and for assaulting a policeman.
Fine of 20s plus costs for being open on Sunday 26th April 1868 at illegal hours. (As Nelson Sharman)
Mrs. M. A. SHARMAN
1879
CHARLES GRIFFITH
(Monument House)
1883 - 1886
THOMAS ALBERT CROMPTON
1888
OSBOURNE Brothers
(ALFRED & HENRY OSBOURNE 1892)
1890 - 1901
JOSEPH BASTER
by 1903
SARAH ANN PHYLLIS BASTER
10.01.1908
HORACE EDWARD GOLDSMITH
16.04.1915
GEORGE PETER TATE
13.04.1917
HORACE EDWARD GOLDSMITH
03.01.1919
HECTOR GERALD HAMER
01.03.1927
PERCIVAL JOB ENTICKNAP
03.01.1930
(JOHN JAMES REILLY - Nelsons Monument - manager?)
(1933 & 1934)
(FREDERICK ARTHUR LEACH - Nelson Tavern - Manager ?)
(1937)
ALFRED JOHN PATEN
13.12.1938
FRANK EDWARD ROSSER
04.07.1950
JAMES FREDERICK MARSHALL
01.11.1966
DAVID WELFARE ELLIS
29.08.1968
IVOR FREDERICK HILLMAN
24.07.1969
DOUGLAS A R MEDLOCK &
ALBERT E MIDDLETON
23.05.1974
BRIAN JOHN OWEN &
NEIL ALFRED HAMMANS
25.07.1976
BRIAN JOHN OWEN &
NORMAN CHARLES READ
22.05.1980
Records vary as to when James Sharman was press-ganged into the Royal Navy. Whatever the date he was said to be 14 years old and then working at the
WRESTLERS.

He served on HMS Victory at the Battle of Trafalgar (21st October 1805) as an ordinary seaman. He was said to be one of those who carried the dying Nelson to the cockpit. After serving on three other ships, he was discharged due to ill health. He was awarded a General Service Medal with Trafalgar clasp. (Which sold for £27,000 in 2012)
Appointed first keeper of the Monument to Nelson, the house next to the monument became his home in 1819 and later a beerhouse.
See the
FORT
, where in November 1829, his part in the rescue of a shipwrecked crew member is recorded.
He died 6th November 1867 age 82.
Various reports give his age at Trafalgar as either 14, 16 or `about ' 20, but if he was 82 in 1867 then he would have been born in 1785 and his age at Trafalgar would have been 20. Furthermore to have been 14 at the time of being press-ganged the year would have had to have been 1799.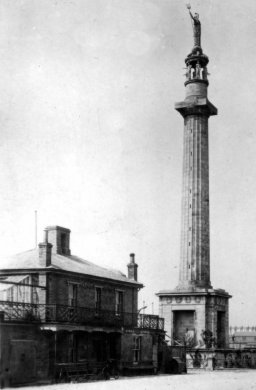 NELSON'S HOTEL
in 1846.
NELSON HOTEL
in 1865.
NELSON MONUMENT
in 1892.
MONUMENT HOUSE
1883 & 1925
James K. Lawson, late Waiter at the Bear and Star Hotels, informed the public, June 1850, that he had taken the Nelson Hotel and Monument House, Denes.
It was reported September 1856 that the monument was in a dilapidated state. Amongst other problems, all of the six Caryatides, supporting the roof, were injured. The easternmost one had lost right shoulder, side and arm. Britannia had lost her trident. Some 30 years previously, James Sharman, the brave old veteran, had re-laid the terrace for an expense of about £50 and since that time he had spent about £20 on maintenance. As keeper of the monument he had been paid money which he had received during the first ten years of showing the memorial. However the takings had dropped and the annual amount was too small to maintain him and his family. Were this not the case he would freely do all required to preserve the monument without asking the country for a single farthing for the expense.
Had a popular open air skittle alley.
A new building was erected 1930 further to the East.
The original house was used as offices for Erie Resistors from 1945.
Last licence for the NELSON MONUMENT was granted 05.02.1930 and removed to the NELSON TAVERN, Marine Parade South.

NELSON TAVERN 1959

MINDERS opened here June 1984.

Became WINNERS by 2006




(Percival Enticknap is also given in 1934 as the licensee of the TRAMWAY, Gorleston and the CROWN HOTEL, Gt. Yarmouth.
In 1936 he is also at the GALLON CAN).







See p. 22 of `Gt. Yarmouth Archive Photos ' pub. 1995