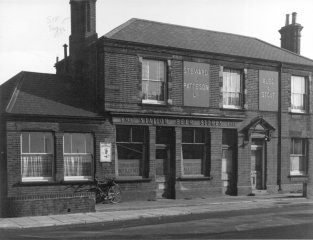 c1950
6 day licence recorded 1901.
Steward & Patteson applied for a full licence Tuesday, 21st August 1900 owing to the considerable increase in traffic in the area and the large amount of traffic at the G.E.R. yards. In return they would give up the
LONDON TAVERN
. Although granted by the justices, the general body of magistrates refused the application.
The house appears to have been an Off Licence only, until 01.03.1904.
Caroline Downes applied for a Beerhouse Licence at the 1904 Sessions (Reported 06.02.1904 ) The owners, Steward & Patteson were prepared to surrender the licence of a "69 Beerhouse", the YARMOUTH BREWERY STORES, Howard Street.
(A similar application had been made in 1901 , without success, involving the LITTLE WHITE LION, King Street.)
After further consideration the bench granted the application - as reported in the Norwich Mercury of 10.02.1904.

7 day licence granted 02.03.1923 upon removal from the
MARINERS TAVERN.
Full licence granted 12.02.1960.

Became the RISING FLAME- April 1974.

See page 13 of `Gt. Yarmouth A Second Selection'. Published 1996.