Licensees :
WILLIAM CALLOW
1822 - 1830
JANE CALLOW
1836
WILLIAM CARTER HAINES
(Age 40 in 1851 - at the Quay Commercial Tavern)
*1839 - *1851
CHARLES M HOWARD
1854 - 1861
Fine of 5s and court fees on Saturday 3rd April 1858 for having persons drinking in the house at illegal hours on Good Friday.
(Steam Packet Tavern - South beach)
BENJAMIN BURTON
See below
1863
HENRY SAVORY
1863 - 1871
Fine of 5s Friday 30th January 1863 for serving customers at illegal hours on the previous day.
RICHARD SAMUEL STEELE
1877 - 1892
WILLIAM ROYAL
by 1900
HECTOR ALFRED ELLIS
16.10.1903
JOSEPH ELLIS
17.11.1905
JOSEPH STEEL
12.10.1906
GEORGE FISHER
27.01.1911
CHARLES PHILIP TAYLOR
26.09.1913
Convicted 18.10.1920 for permitting a quart bottle of rum to be taken away on a day prohibited for that purpose.
Fine 20/- plus 10/6 costs or 14 days in detention.
CHARLES ALBERT BAKER
06.01.1925
JANE BAKER
21.07.1925
WALTER THOMAS TOPPS
02.04.1935
Note : In 1863, the directory by Cobb gives Benjamin Burton at the
STEAM PACKET
, Hall Quay. Other sources name Henry Savory at this house in 1863 and later. The 1863 directory by White gives B. Burton at the
CAMBRIDGE TAVERN
.
Address as Fishers Quay in 1822.
The
EMPEROR STEAM PACKET
1836 & 1845.
SOVEREIGN STEAM PACKET
1845
The Eastern Daily Press of Thursday 17th May 1877 reported :-
Amy Thompson was summoned before Yarmouth Police Court for threatening Hannah Lodge. Mr Diver appeared for complainant, and Mr Wiltshire for defendant. From complainant's evidence it appeared that she was a married woman, and was at that time living at the Steam Packet Tavern, waiting on Mr Steele's (the landlord) wife, who was ill. On Wednesday, April 25th, when she was in the bar, the defendant, who is sister to Mrs Steele, came in and commenced to abuse her. She retired into the bar parlor, but defendant followed her and again abused her and also threatened her. She ran upstairs, and defendant came to the bottom of the stairs and again threatened to do for her. She asked the defendant might be bound over to keep the peace. Defendant was bound over in two sureties of £10 each to keep the peace for three months.
Advertisement in the Norwich Mercury of 10.02.1904.
``Good strong country girl wanted to do housework.
Wages £12 (per annum).
Apply to Mrs Ellis, Steam Packet Hotel''.

Mrs. Ellis summoned her husband Hector Friday 13th October 1905, seeking a separation on the grounds of the persistent cruelty that he had shown towards her.
She stated that she could not rely upon him for more than five minutes and try as she might, she could never please him. Scrubbing doorsteps was his idea of a wife. He had never been a sober man and on one occasion he had gone to bed, drunk, at 8 am and did not get up until 4 pm when he went to the bar and tossed for quids. During the birth of her child he had promised not to touch a drop, but when she got up he admitted that he had been drunk for seven days. He had slapped her face in the presence of a servant and on 23rd August he had thrown a bowl of eggs about, smashed a glass and threw bread and butter about. He regularly had a dozen gin and milk before breakfast and then went to the barrel with a half pint glass and `tossed the spirit off neat'.
In defence it was said that Mr. Ellis had served seven years in the army and his father had put £600 into the business for him. He denied ever striking his wife.
After retiring for two minutes the magistrates dismissed the case through insufficient evidence.

Licence removed to `Fowlers Plot ', Caister Road - Premises (to be) named the BURE HOTEL. Licence removal declared final 12.12.1939.

The sites of the STEAM PACKET and the CROWN & ANCHOR were combined in the development of the YARE HOTEL, the new house opening 13th December 1939.

Stood between the STAR & GARTER and the STAR HOTEL



Thanks to Maureen Rust for the EDP newspaper article.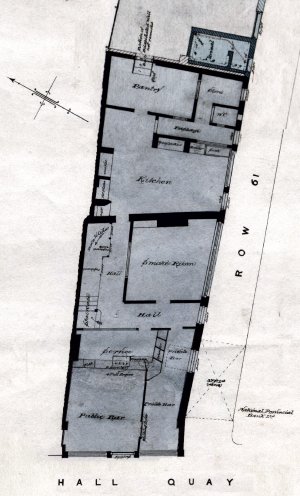 Plan produced in 1927 - revised 1937.