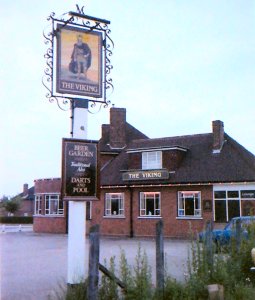 1985

Built on a green field site 1956/7
First licensed 13.06.1957

The licences of the THREE TUNS at Snoring and that of the
JOLLY FARMERS , Baconsthorpe were surrendered 01.03.1956 in order to obtain this one.
(But that of the THREE TUNS is later transferred to the ODDFELLOWS, Swaffham)
In January 1960 the tenant, who had taken on the house in 1958, complained of the high rate assessment for the property. The figure had been accepted by the first tenant, but then trade was unknown. A further £5 had been added in September 1959 following addition of a Garage.
Sales for the year ending 30th September 1958 were :-
65 barrels of beer, 62 barrels of bottled beer and 35 spirits.
The sales in 1959 were ;-
86 barrels of beer, 84 bottled and 36 spirits.
The tenant was finding it difficult to attract local trade and the assessment of £255 was considered to be very high indeed and the matter was asked to be reconsidered.
Morgans Brewery proposed an assessment of £200 in a letter dated 16th February 1960.
Morgans sales in 1960 were :-
170 barrels of beer and
14 spirits.
Reopened Saturday 18th November 1995 following refurbishment by new owner, builder John Mann.
Boxer Herbie Hide being a special guest at the evening event.
Boarded up and closed for some 3 months prior to reopening August 1999.(as a freehouse ?).

Closed by March 2007 and converted into an Indian Restaurant