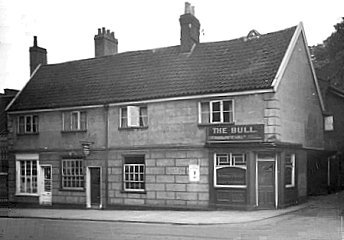 14.06.1936
Image by George Plunkett - shown by permission - Copyright © G.A.F.Plunkett 2002
One of 40 houses named as being engaged for the Reception of Freeholders for Sir John Woodhouse and Sir Edward Astley's Friends on the Day of Election, Wednesday 14th April 1784.
43 St. Stephens Street in 1802.
25th July 1864 - William Chapman of Duck Lane was charged of breaking a square of glass in the house of William Banham, the BULL. He was fined 1s with costs of 10s and 5s damages, or in default fourteen days hard labour.
17th September 1864 - Louisa Thurston thanked her numerous Friends and the Public generally for the kind support she and her late husband had enjoyed for the past twenty years. In retiring she had disposed of her business in favour of Mr. William Banham.
Mr. Banham assured his future customers that he would pay strict attention to merit their continued patronage and support.
William Banham was licensee by Saturday 21st January 1865 when Private James Calvar of the Coldstream Guards got into a fight with another customer, was put out of the house and then broke a window. In the course of events he assaulted the landlord. On Monday 23rd January the soldier was fined 1s plus 6s for the damages and costs of 7s 6d, all of which he paid.
On Thursday 16th November 1865 William Banham was accused of an assault on labourer John Pull of Upper Heigham. The case was dismissed.
The Inspector of Weights and Measures summoned William Banham on Saturday 18th August 1866 for having in his possession two half-pint and three quart pewter pots of deficient measure. Admitting the offences he was fined 5s as well as costs.
Licence provisionally surrendered 10.02.1948 on removal of the licence of the FREE TRADE to the MARLPIT.
Order made final 06.07.1948.
Licence given up 19.07.1948.
Demolished in the cause of road widening.