Licensees :
JAMES FREDERICK NEALE
22.09.1898
WILLIAM JAMES PARR
08.08.1899
ELIZABETH ELIZA PARR
05.02.1901
WILLIAM ARTHUR GEORGE RIMMINGTON
06.04.1903
HANNAH MORRIS
01.12.1903
BERTIE HILLING
05.04.1907
PERCY HARRY LeSTRANGE
05.04.1909
JAMES HENRY LARNDER
29.11.1910
MABEL HESTER LARNDER
21.11.1916
JAMES HENRY LARNDER
17.06.1919
CHARLES EDWARD GUEST
05.03.1935
Convicted 22.04.1941 on 3 cases of selling out of hours.
The guilty verdict was dismissed on payment of 12/- costs.
JOHN HENRY BAILEY
01.01.1946
WALTER CLIFFORD GEORGE
09.10.1962
JOHN THRAXTON
1975 - 1991
CLIVE & MANDY LARGE
1991
-
FRANCO GUAMNO
1993
BARRY HILLS
by Dec 1993
-
First licensed 1898.
Licence of the EDINBURGH transferred to these premises.
Licence of the CORK CUTTERS ARMS also surrendered.
Given in directories c1900 as

THE FESTIVAL

and in the licence registers as the

FESTIVAL RESTAURANT

to c1965.

Advertising in 1945 read :-
"Bullards & Sons Ltd : Fine Ales & Stout, Wines & Spirits''

Page 89 of the 1945 City Of Norwich Plan says :-
"Spoilt by Victorian vulgarity ''.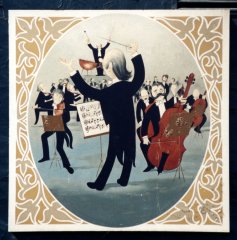 1988


Featured a corner bar to c1980.
This bar was a delight of carved bar fittings and mirrored glass. A Victorian gem.
Ripped out in the cause of `improvements'.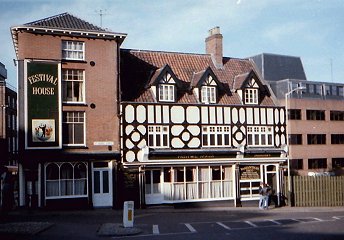 Offered For Sale May 1990 - £240,000, leasehold.

Closed 05.1992.
Renamed the GROCERS GHOST from 11th June 1992.
(The property being a grocers shop in the late 1800's).
By January 1993 became FRANCO'S
and later in the same year back to the FESTIVAL HOUSE.
Closed December 1999 to 20.12.2000 when new licence applied for.
Opened as DELANEYS 07.02.2001,an Irish theme bar.
Later to become the St. ANDREWS BREWHOUSE.