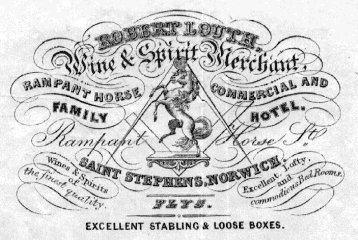 A bill heading from 1862.

Known as the
RAMPING HORSE INN
from 13thC to 16thC.
Disorderly conduct by Irish troops, billeted at the house by King Charles I (Born 1600 - executed 1649) is said to have swayed local opinion to the Parliamentary Cause.
Norwich, Dec. 4, 1758
This is to give NOTICE THAT THOMAS TILBURY, from London,
(late from the
THREE TUNS TAVERN
in the Market-Place [Norwich])
having now taken the Rampant Horse Inn, in St. Stephen's-street, where the
London Stage-Coach constantly goes by his Gate; with Stable Room for seventy or eighty Horses; the House being genteelly fitted up with new Furniture, for the Reception of any Gentlemen
who will be pleased to make Tryal of
Their most humble Servant,
THOMAS TILBURY
N.B. Neat Wines, Arrack, Rum, Brandy, &c. and London Porter.
~
Advertised in the Norfolk Chronicle of 13th April 1776 as available for immediate let. Again advertised in the Chronicle for let 4th May 1776 when it was said `the present occupier will give up premises immediately as he has taken up a house in the country. Enquire of Chas Wilson near Black Fryars Bridge'. The edition of 22nd June 1776 advised that `Henry Green begs leave to inform his friends and the public that he has taken the Rampant Horse Inn, late in the possession of Mr. William Cobb, and embraces the earliest opportunity of soliciting their favours and encouragement.'
On 3rd April 1777 William Cobb, late of the Rampant Horse, announced that he had taken the
NAGS HEAD
, St Stephen.
It appears that his intention in April 1776 to go to the Bull at Brandon was short lived.
Offered To Let 22nd August 1778, with stables for about one hundred horses. Apply to Mr. Henry Green on the premises or to Charles Weston Esq. Immediate occupation and furniture to be taken at a fair value.
Offered To Let June 1779 with occupation from Michaelmas or sooner. Any part of the Furniture to be had at a fair Valuation.
Offered To Let, 15th April 1780, with possession from Midsummer Day.
With a handsome and spacious Dining room, lately fitted up.
Also to Let, immediately, a convenient House and Shop adjoining the Inn. In occupation of Cabinet-maker Mr. Thorne.
Also To Let, immediately, a House and Shop in Dove Street.
Apply to Mr. Charles Weston Esq. or of Mr. Chalker at the Inn.
The first coach service to Ipswich departed from here in 1782.
One of 40 houses named as being engaged for the Reception of Freeholders for Sir John Woodhouse and Sir Edward Astley's Friends on the Day of Election, Wednesday 14th April 1784.
One of 36 Norwich houses opened for the reception of Voters in the interest of Mr. Windham and Mr. Coke on election day Thursday 13th November 1806. The name of the Hundred for which the house was appropriated was to be displayed at each house.
William Eke advised the public April 13th 1811 that he had resigned from the Inn in favour of Isaac Johnson. Mr. Johnson assured Commercial Gentlemen that they could depend upon the strictest attention being paid to them.
A society named the Brunswick Knights of Norwich was formed here 1817 - See
PRUSSIA GARDENS
Mr. W. Leach announced 20th July 1822 that he had just completed alterations and improvements to the house and it was fitted up for the reception of the Nobility, Gentry, Commercial Gentlemen and the Public in General.
William Leach announced Saturday 21st June 1828 (and again a week later) that negotiations he had lately been engaged in, for transfer of the Inn, had broken off and he would thus continue with the Business.
13th June 1829, Christopher Twiss gave Gratitude for the favours of the Nobility, Commercial Gentlemen and the Public in general, for the support he had received since taking the Inn. He added that there was a vacancy for a First Rate Cook.
In 1830 the coach the Telegraph left for London every day at 7:00am. The Magnet left daily at 4:30 also London bound.
The Comet headed off for Great Yarmouth daily at 8:00am via Loddon, Haddiscoe and Southtown.
For Sale by Auction Wednesday 6th September 1843.
With most elegant modern front recently erected in the most substantial manner. Containing 12 dining and sitting rooms, 34 sleeping rooms, making up 40 beds, admirably arranged bar, spacious kitchen, splendid vaults, offices and water closets.
The Yard containing 4 stables, coach house booking office and hostelry. In occupation of Mr. Twiss who has carried on at the Establishment for 15 years.
Robert Louth announced 29th August 1857 that he had also become the proprietor of the
NEW REFRESHMENT ROOMS
, Thorpe Station.
3rd December 1859 - Mrs. Louth thanked her Friends for the patronage given over the previous five years and confirmed that following the death of her husband, she would carry on the Business on her own account.
George Figg announced 8th December 1866 that his Opening Dinner would be held at Half-past Six on Thursday 13th December.
A group of cases awaiting despatch in the 1800's were found to contain corpses stolen by grave robbers from Lakenham churchyard.