Licensees :
-
JOHN COPEMAN
victualler, brewer & saddler
Age 50 in 1841
1836 - 1846
JAMES WISEMAN
age 52 in 1851
& brewer
(Previously at New Inn)
1847 - 1865
WILLIAM BETTS
Age 37 in 1871
07.11.1866 - 1879
JOHN BENTON
1881
CHARLES STAPLETON WALKER
& threshing machine owner
Age 44 in 1891
1883 - 1891
Friday 8th August 1890 - Ordered to pay costs of 19s and keep his dog under control. A nine year old boy, Albert Loads had been bitten on the leg. There was the accusation that the boy had thrown stones at the animal.
Mrs SUSAN MARIA WALKER
by 1896
ARTHUR SOUTHGATE
20.05.1904
HENRY COOK
24.11.1905
ALFRED HARNWELL
03.01.1908
WILLIE SMITH
Age 29 in 1911
10.07.1908
WILLIAM SHICKLE CARTER
28.08.1914
JOHN GOLDSON MASON
25.05.1917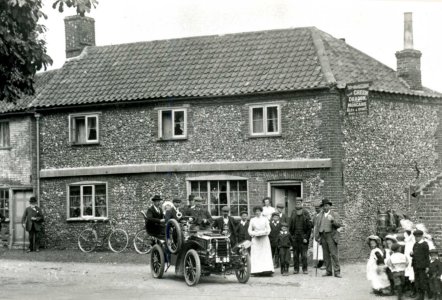 Advertising Morgans ales on sale.


Offered by Eyres for sale by auction 22nd July 1878,
as a Copyhold Pubic House.

On Friday 3rd March 1905, it was heard that the house stood on the four cross roads leading to Lexham, Wellingham, Mileham and Dereham. It had four public rooms and stable accommodation for three horses. The landlord was also a jobbing coachman.
It was 160 yards from the BULL, 332 yards from the KINGS ARMS and 596 yards from the NEW INN. 150 or 200 persons lived within 200 yards. The Bull was a larger house and used by a different class of customer.
Mr. Southgate said that he had been at the house for twelve months and apart from being a coachman he could make a living from the house, selling two barrels of beer and a gallon of spirits every week. The house was used by the working class.
For Morgans Brewery it was said that there were three times as many dwelling-houses near the Green Dragon as there were against the other houses. Yearly sales were 90 barrels of beer and 60 gallons of spirits.
Licence provisionally renewed and matter referred to the Quarter Sessions.
Objection to the renewal of licence was made on Friday 16th February 1906.

Referred for Compensation 02.03.1917
Licence renewal refused 19.09.1917.